Are you aware of Amazon Mom?
Certainly you've heard of Amazon Prime, which features such benefits as free two day shipping on many products, free streaming videos and music, and a few other features.
Amazon Mom works the same way. There are discounts on diapers, baby food and other similar products. Sounds great, right?
The problem is Amazon Mom doesn't seem as inclusive as it wants to be.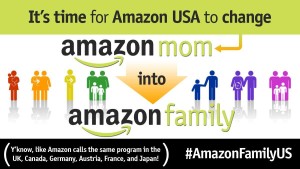 As the stay at home dad, I'm the one buying 99% of the groceries, the baby supplies, whatever is needed around the house. While I am not offended by the Amazon Mom moniker, I can understand why some would be.
What about the gay dads who adopted their first child? Which one is the mom? The divorced couple who need two separate accounts? Does dad get shut out?
Yes, anybody can join Amazon Mom, which is included in your Amazon Prime membership, but it just isn't inclusive to all the different types of families there are.
I understand Amazon Caregiver is a bit unwieldy and has the connotation of a hospital. That's why Amazon uses Amazon Family is other parts of the world. Why not here in the United States?
Currently there is a petition, it isn't the first, to get the name changed from Amazon Mom to Amazon Family. Will it make a difference? It would help. Thing is, it will take a significant amount of Amazon's consumer base to show it wants a change for it to take hold. This is where you come in.
Sign the petition. Tell Amazon on social media the change needs to be made. Send a direct email to Jeff Bezos. Email Amazon's customer support. Then tell your friends and family. Get them in on the action. Spread the message on social media.
Let's get Amazon as inclusive as they want to be.
It's a small, but significant, change the company could make.