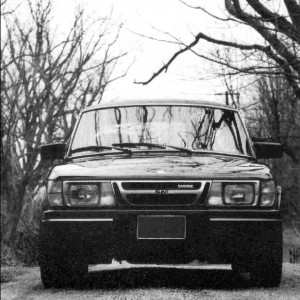 I don't remember the first time I heard Slint. If I remember correctly a band member (I used to be a musician a couple decades ago) of mine brought Tweez, Slint's first album, to practice and we listened to it as a band. Practice in those days was much looser, with Sunday afternoons spent listening to music, talking and sort of going on a mutual discovery of sorts. So listening to Slint's Tweez was, well, not revolutionary, but it certainly made me sit up and take notice.
That first album by the band didn't even have proper song titles. Instead it used names. I learned later the names were of the band member's parents. I picked up Tweez for myself shortly thereafter.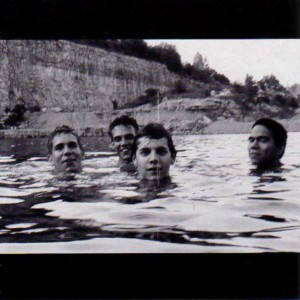 A while later Slint would release Spiderland, an album that would find greater recognition and go on to become a cult hit. Acting as a sort of "slow burn" the album would be heard by many other musicians who would find its dark lyrics and odd music influential. The sound of the band on its first album was honed to near perfection.
My description for the band's sound is falling up a staircase backwards in slow motion. It doesn't make sense, it shouldn't work, but it does. It's loud and quiet, soft and hard, rhythmic and atonal, frankly it's almost as if Slint were trying to make music that people couldn't listen to.
The band broke up right after their second album was released and I never got to see them perform. A couple of years ago the group reformed, toured, then disappeared again. I didn't realize this was happening until a couple of days after they were in town. I thought I had missed my chance to see them.
Earlier this year the band rereleased Spiderland in a deluxe remastered version with bonus tracks. Then it was announced a new tour would be happening. I picked up the remastered CD (despite having the album already on vinyl) as well as a ticket to see the band live.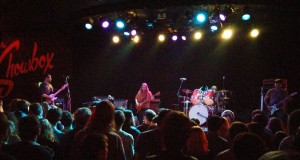 Last week was the concert. Augmented to a 5 piece (the other guitar player is sitting down in the picture) the band came out and immediately began tuning their guitars. Pretty much as expected. The music was just as challenging as on record (such as having the vocals mixed low).
I really liked the concert, still like the music from both albums and would like to see Tweez get a similar treatment that Spiderland did. It's a great reissue with a wealth of bonus tracks. I also wouldn't mind seeing the band record some new material, but at least remaster Tweez.
Here is "Breadcrumb Trail" off of Spiderland.