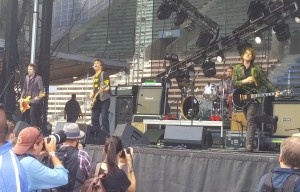 Part of me doesn't know where to begin. In a way I'm still processing the event. The Replacements got back together and performed live. I was excited when they recorded a couple of new songs a few years ago, but to see them live? Well, I thought it would never happen. Yet there I was, front and not quite center.
Laura knew how much seeing the band meant to me and got me a 3 day pass to Bumbershoot for Father's Day. I wasn't able to travel to see the band at their earlier gigs and would not be able to see them perform their hometown Minneapolis show, so this was the next best thing, and it was a great present.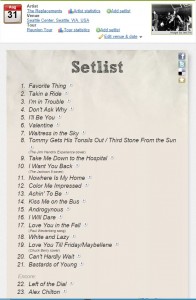 I centered my entire day at Bumbershoot around the mainstage and the second of three bands performing that day. I went and got my shirt, checked on the crowd situation, etc. A couple of hours before The Replacements took the stage I was at another location and got sort of freaked out and ditched the act I was going to see in order to have the opportunity to get up front for The Replacements. As it was I was up front, but off to the side, further than I had hoped. This picture of the setlist I took from Setlist.fm and it seems more accurate than another picture of a set list floating around out there.
The band came out and just started playing fan favorite songs one after another. Well, with a band such as The Replacements almost any song they would play would be a fan favorite.
Seriously though, some of these songs are ones I wanted to hear live. "I'll Be You" and "Left Of The Dial" are two of my favorite Replacements songs.
The videos and pictures in this post of the band are all mine that I took using my phone.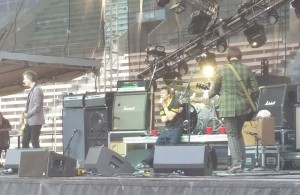 A couple of times Tommy complained the band was not as tight as it should be because they were playing while the sun was still up. "We're a bar band!"
I do wish I had been able to get video of the band playing "Androgynous" because it was a singular experience with forgotten (purposefully?) lyrics and a dropped (definitely not on purpose) microphone.
A couple of songs I would have liked to have heard the band play included "Customer" which I doubt they ever will play live again and "Message To The Boys" or "Pool & Dive" which were the new songs the band recorded a few years ago. "Merry Go Round" would have been nice as well as a certain song off of the first album that would be obvious if you have been paying attention to this blog's musical proclivities.
Packing a set list with wishes and personal favorites would seem almost to be against what The Replacements stood for. The legendary randomness of the set lists the band would offer up when it was a regular live touring band is one of the things they are most famous for.
I was glad to be up front since the crowd, as predicted, was mostly older and less prone to be as rowdy as at other concerts. I didn't get crushed against the barrier and since I wasn't a few people back I wasn't jostled around much allowing for some pretty steady(ish) video footage.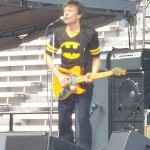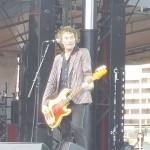 At the end of the concert Paul got off stage and was going to sing facing the audience while in front of the stage but the feedback wasn't going to allow for this to happen. He instead of getting back on stage immediately simply turned the microphone around and the band proceeded to play "Left Of The Dial."
This was a concert I never thought I'd get to see.
Alright, so Bob isn't with us any more. Slim is too ill, and Chris walked away. It's not the original line-up. Chris' replacement Steve could be considered a band member, but wasn't asked back when the new recordings took place. That was Josh Freese behind the kit. On second guitar this time around is Dave Minehan, whom I know nothing about, but he seems to know all the words to the songs (more so than Paul).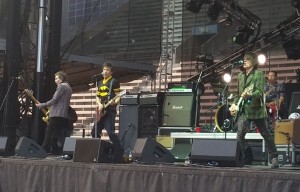 Much in the way this post started, I don't necessarily know how to end it. As the show ended I was on a high, as was most of the audience. It didn't last long as I rushed off to see another band on another stage.
Thank you Paul, Tommy, Josh and Dave.