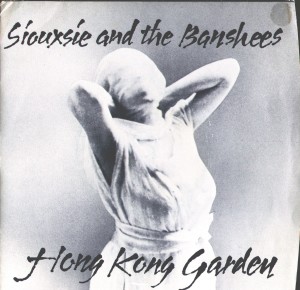 You may wonder why I split up my look at Siouxsie And The Banshees into two parts. You may wonder why there are two parts at all considering the first part was a complete story. Thing is, I have gotten to like and appreciate the band more as time goes on. I'm not under the impression they were particularly groundbreaking, or musically instrumental in music history. Simply, Siouxsie And The Banshees were a good band that sort of seems to get overlooked these days, even by people who remember the band.
"Hong Kong Garden"
Starting out in the mid 70s in the London punk scene Siouxsie Sioux and bassist Steve Severin were part of a group of Sex Pistols fans. They eventually started their own band, one that features Sid Vicious on drums and Marco Pirroni on guitar – if only for one gig (and one that was less of a set than an organized improv). It didn't take long for Sioux and Severin to get serious about the band, get a "real" line-up, then work on some actual songs.
"Nicotine Stain"
The Scream is the debut album by Siouxsie And The Banshees, released in 1978 and it is considered by some to mark the transition from punk to post-punk. As an album, I don't like it. But that's me. It's alright, I'll listen to it, but maybe it was because I got into the band a bit later (which I will get to shortly), but this era of the band just doesn't "do it" for me. And their cover of "Helter Skelter" is grating.
"Drop Dead/Celebration" (B-side to "Happy House)
A couple of albums and a couple of personnel changes later the band settled on a sound that was less harsh but still at times challenging. The core of the lineup would be Siouxsie on vocals, Severin on bass and Budgie on drums – from the third album onward throughout the rest of the band's career. The guitar slot (as well as an occasional keyboardist) would be rotating. Even Robert Smith from The Cure was in there at one point, going on tour and recording an album.
"Dazzle" (Glamour Mix)
While the band's popularity had grown, at least in certain segments of the college radio market, it wasn't until 1986 or so that I was introduced to Siouxsie And The Banshees. The singles "Cities In Dust" from Tinderbox and "The Passenger" from the covers album Through The Looking Glass were constantly played – so much so that I kind of got sick of them. They were enough to get me interested in the band and at this point I had some money and time so I was able to start picking up stuff from their back catalog (along with several other bands as I was in full music discovery at this point in my life).
"Trust In Me" (Yes, from The Jungle Book)
In 1988 Peepshow was released, which I discussed previously. By now the band was musically so far removed from its origins so as to be unrecognizable. And I like it. I prefer the lush, moody, almost gothic style of pop music that wasn't necessarily trying to be popular. The band even flirted with mainstream success for a while during this period.
"Are You Still Dying Darling?" (B side of "The Killing Jar")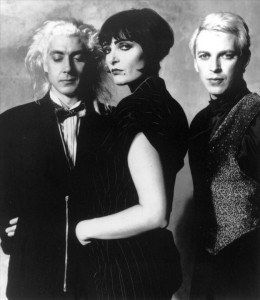 Eventually Siouxsie And The Banshees decided to stop being a band. Their record label dropped them, and the constant hassle of having to recruit new guitarists (and keyboardists) along with the increasingly complex musical arrangements meant it was getting more and more difficult to carry on, especially without any support from a record label (as one needed back then for an act of their stature).
"Cry"
Siouxsie and Budge would carry on at The Creatures, but that will be for a different post.
"Face To Face"