This last Sunday I took the kids to their first Mariners game of the season. The last couple of seasons have been well documented already, with August leading the way for attendance, starting in 2010. Last year I was able to incorporate Ciárán and Déla, but the total number of games still numbered on one hand.
Normally we wouldn't go to a baseball game so early in the season, and almost certainly not on a school night. What I had done, however, was a few weeks before, made it very affordable to not only attend this game, but several others coming up.
I signed August and Déla up for the Mariners Kid's Club. For $15 they get a hat, a shirt, a few other things, but most importantly for me, $1 ticket vouchers. I knew these would not be tickets we could redeem for right behind home plate, but still a deal is a deal.
August and Déla's Kid's Club newsletter arrived with the April and May ticket vouchers, but the other physical goodies did not. They should be arriving soon. Still, we had our first batch of ticket vouchers. What I had hoped was these would simply be plain vouchers, redeemable for any game with certain exclusions. I did not expect them to be game specific.
The first game specific voucher was for Sunday, April 15 (an afternoon game). Another was for April 14 (the second home game of the season) which we would not be able to attend. Then May 5. Since these were indeed game specific, I had to use them or lose them. I took the kids down to the ballpark box office (they were home for Spring Break) and got tickets for Sunday's game. I purchased two tickets, one each for myself and Ciárán, and used August and Déla's vouchers for their tickets.
My plan was on Sunday get down to the ballpark early, purchase Ciárán a Kid's Club membership, and use his voucher, along with August and Déla's to purchase tickets for the May 5 game. Only thing was, Déla lost the vouchers. I'm not going to go into everything that ensued over the rest of that day, but by the time we sat in our seats on Sunday, the lost Kid's Club ticket vouchers became a thing of the past.
Sunday, game day, and I'm searching the house for our tickets. I can't find them. I spend 45 minutes looking for the tickets, only to find them exactly where they are supposed to be. Frustrating is only the beginning of it. Because I spent so much time looking for the tickets we didn't get out of the house until much later than I had wanted. This meant I wouldn't have enough time before the game stated to do everything I wanted.
We managed to get down to Safeco Field, find parking and made it into the Team Store with a little bit of time to spare before the first pitch. I purchased Ciárán's Mariners Kid's Club membership, and because we purchased it at the Team Store instead of online as I did with the other two, immediately received the shirt, hat, and other physical goodies. What we didn't get were the $1 ticket vouchers. Those, I was told, would be mailed to us. I would have to wait to purchase tickets to the next game.
One bathroom emergency later, and we're on our way to our seats. It was a nice day for baseball, but cold. The section we were in was perpetually in shadow, and since we were so high up there was a breeze. Everybody kept their jacket on.
I waited until the 3rd inning to go get snacks. We sat down in our seats literally just about 2 minutes before the first pitch, so I was not eager to immediately get up. Another consideration was our limited finances. I didn't want to blow all of our snack money before 5th inning and have a pack of hungry complaining kids with several innings to go.
Of course we got our garlic fries. There was a big thing of kettle corn as well, which Ciárán accidentally spilled half of on the people in front of us.
August loves going to the baseball games, and Déla and Ciárán enjoy going out and doing stuff. Ciárán particularly surprised me. He sat through the whole game (other than when we went to get snacks and use the restroom) and while he didn't necessarily pay attention to everything, he was there and didn't complain.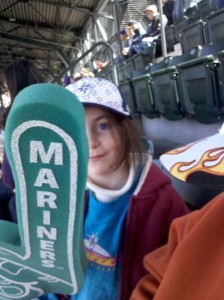 The game ended, a victory for the Mariners, and we made it home in time for dinner. It was a great day out with the kids, despite the rough beginning.
I look forward to going to more games this season with them. Now with the Mariners Kid's Club, it looks like I'll be able to get to more games this season because it will be affordable. They may not necessarily be the games I would first choose, but the point is more about getting out to the ballpark with the kids. It's Thursday as I write this, and the vouchers still haven't arrived. I live in Seattle, so it shouldn't take this long.