This is the third (of I'm not sure how many yet) part of a series chronicling the adventures  associated with our summer 2012 vacation. Parts one and two are easy enough to find.
We arrived at our destination about 5 in the afternoon or so. The rental house was easy enough to find. With only one main street running north/south, the two lane highway, and a couple of blocks to the west or east, it would be pretty difficult to get lost. And yes, renting a house for two nights was actually cheaper than hotel rooms with enough beds for all of us.
Our vacation was two nights in Seaview, a wide spot in the road next to Long Beach, on a peninsula in the southwest corner of Washington. Originally we had planned on arriving much earlier, but as with almost all things related to children, what should have taken three and a half hours wound up taking almost twice as long. Fortunately we had prepared ourselves for this eventuality mentally and our expectations for that first day of vacation were minimal.
After settling in, it was time for dinner. Sure, we were on vacation, and the kids would all have their sleep schedule mixed up, but we didn't have to exacerbate the problem. Thankfully there was a pizza place a block and a half away from where we were staying.
I could (and maybe should) go into what it took to get everybody to sleep. The bedroom arrangements were less than ideal, and it took removing a futon mattress off of one frame ina room and putting it on the floor in another, the portable crib in that room, and having the futon mattress we brought from home in the hallway between the two rooms. And that was just for the kids.
The next morning we got up, had breakfast, then went out to the beach. Sand castles, shell pieces, bits of crab, and plenty of sand in places we don't really want to talk about.
I stayed and made a sand castle with Déla while Laura took August, Ciárán and Xavier to the water's edge. After they returned, Déla and I wandered towards the ocean and made an adventure out of it. I couldn't tell if the tide was coming in or out, but there was some water on the beach, not quite a tide pool, and we were splashing in and out of it as if we were giants stepping in the ocean. When we finally did get our toes wet in the waters of the Pacific, it was FREEZING!
It was really fun on the beach. Here are a couple more pictures.
One thing that pissed me off was somebody left a large fire smoldering. Sure it's just the beach with plenty of sand around and little to no danger of starting a wild fire, but still, you don't leave a fire burning. August and I covered the logs (that were still quite hot) with sand. It took a little while, but we felt much better about it.
Then it was time for lunch. We decided on a picnic lunch at Cape Disappointment State Park. After brushing off as much of the sand as we could we went and got our supplies, then headed down the road.
Along the way we stopped to look at … well, whatever we could. Scenic overlooks are pretty awe inspiring in general, but when you have one that discusses why the region was considered the graveyard of the Pacific, well, there's usually a good reason.
We paid our fee ($30 annually for all Washington State Parks) and found a good spot for our picnic. Turns out, you could see the Cape Disappointment lighthouse from our spot. Our plan was to go there a bit later on in the afternoon.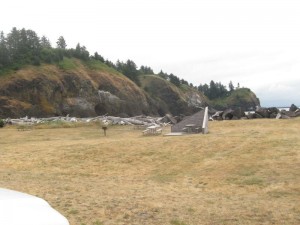 After lunch we were going to head back to put Xavier down for nap while I went out with August, Déla and Ciárán for a couple of hours, but those plans would change.