This is part four of an ongoing series looking at our family vacation. You can tell it was a big deal because I'm milking it for all it's worth.  We weren't even gone from the house for three full days!
Originally, after our picnic lunch, the plan was for me to take August, Déla and Ciárán out while Laura took Xavier back to the house for his nap, after which we would meet up again for the latter part of the afternoon. Things would change, however since Xavier fell asleep in the van almost immediately after lunch. We didn't make it 10 minutes away from the picnic location before he just dropped off.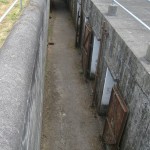 What to do? If we went back to the house to put him down for nap he would wake up and that would be the end of the nap. We decided to let him sleep. Since it wouldn't be fair to keep all the kid in the van, Laura dropped the rest of us off at Fort Columbia, just a very short drive up the Columbia River away from Cape Disappointment State Park.
The installation was similar to Fort Flagler, which we visited a couple of years previously. basically, a group of heavy artillery guns were strategically placed in order to protect a major water passage – in this instance it is the mouth of the Columbia River.
Fort Columbia has long since been decommissioned, making it a fun place to visit. There are all sorts of hidden areas and whatnot.
If you get the chance, at least visit one of the many forts of this type. I'm sure there are others in the United States, old decommissioned gun batteries at one time meant to protect a passageway or other geographic area. you can spend almost as much or as little time as you wish, making it a destination to itself or a quick stop along the way to somewhere else.
Usually, as was again the case here, there were several bunkers to explore. Down the hill in one area was a separate bunker that once served as the generator. It almost looked like a detainment center.
After a while Laura came back and picked us up. Xavier has woken up and we were all ready to go on to our next adventure. As for this blog post, I'll fill it up with more pictures from Fort Coumbia.