"Savoy Truffle" appears on side 4 of The Beatles (White Album) and is perhaps that side's most accessible song. BeatleSongs tells us it was written as an exploration of (Harrison's friend) Eric Clapton's affection for sweets. Some of the lyrics are taken directly from the names of various confections one would find in a box of chocolates. Tell Me Why praises Ringo's drumming as "perfectly timed" and the song itself "in terms of sheer feel, it's the best George song since 'I Want To Tell You'" (from Revolver, a couple of albums previous).
January 1. One of the few days of the year where nearly EVERY adult is dragging their feet. It was also the day my kids BEGGED to go to the LEGO Store. It's not a close drive. It's not a long haul, but it's further than simply going to the local mall.
So I take the older kids (August, Déla and Ciárán) to the big mall that's 20 or so miles away. They each have their saved money, and Déla decides she wants to go to the American Girl Doll store to spend her money. Wow, was that place packed. And expensive. She didn't have enough for the accessories she wanted, so it was back to our original plan of  the LEGO Store for everybody.
Thankfully the LEGO Store wasn't overly crowded, there were plenty of options for people to pick out something to purchase with their own money, and we walked away happy.
Mostly. I was beginning to feel a bit numb. I wasn't hungover, but certainly tired. Laura and I had gone to sleep after midnight, and Xavier woke up around 4am and got out of his crib. I got up and put him back in, but those less than 4 hours were my only true solid sleep. I did fall back asleep, buy only intermittently before finally getting up at about 7:15 for the day.
On the way home we stopped off at our "regular" local mall so August could pre-order the upcoming LEGO City Undercover video game. As we walked out of that store, Déla said she was hungry. It was close to snack time, so I picked up a 4-pack of Cinnabon rolls and we headed home.
Don't get me started on how bad those things are for you. I know very well just how bad they are. I haven't purchased a Cinnabon roll in years, if not over a decade. It wasn't a purchase for health reasons. It was a treat. A pretty big one at that. I had some, Laura had some, and the kids loved it.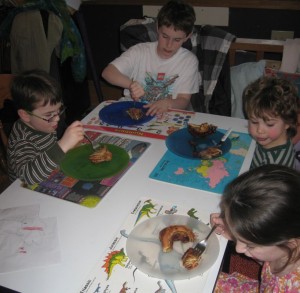 Hopefully they'll still have their teeth in the morning if they haven't rotted out.