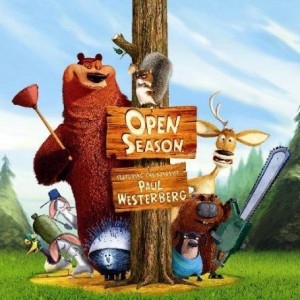 Found an interesting CD a few days ago. My affection for The Replacements is certainly no secret. Those who know me also know I'm not above purchasing a soundtrack to a film that I have no intention of ever seeing just because it has one song by a favorite band. Put these two things together and you have the Open Season soundtrack.
If you are at all familiar with Paul Westerberg and The Replacements, you know the sort of "shambling" guitar driven semi-punk attitude the music Paul Westerberg writes. During his earlier days with The Replacements, chaos reigned, and you never knew if you were going to get a "good" show by the band or one constituting four drunken goofs half attempting nothing but covers.
While Paul Westerberg has gotten to be much more professional in his solo career, the types of songs he writes and performs has remained the same. Having an appearance on a soundtrack is not unusual for him. Starting with Singles in 1992, Paul Westerberg has contributed to such diverse projects as the film Tank Girl and the television sitcom Friends.
Open Season is different. It doesn't have just one or two songs by Paul Westerberg, it's almost a whole album. Of the 12 songs on the soundtrack, only 4 are not performed by Paul Westerberg. Of those 4, only 2 were not written by him.
Is this a collection of "throwaway" songs? Are these "lesser" efforts by the singer? Not by a long shot. Some of the songs meander or last too long, but this is very much a Paul Westerberg solo album. I wonder if he ever performs some of these songs live.
Here's "Love You In The Fall" off of the soundtrack.