This last Saturday was Free Comic Book Day. My son August was able to hit a few of the comic shops last year with a friend of his and it was his first time attending this event. He loved it and couldn't wait for this year's event to roll around.
I am so glad that I went this year and took the kids. My only regret is not getting any pictures of this year's participation.
Last year August picked up the Free Comic Book Day edition of The Tick for me. He knows I love The Tick. This year? I picked up The Tick for myself. And I am glad I did. I picked up a few other of the free comics on offer as well.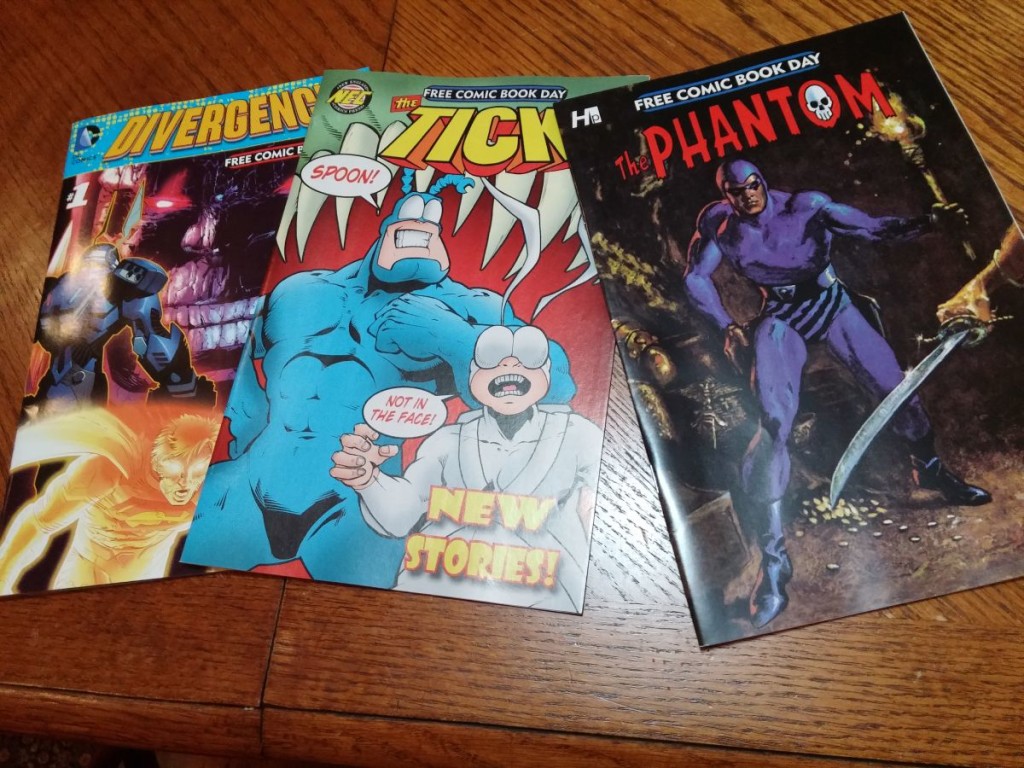 August and I went to one comic store that wasn't in our neighborhood, but it was where we had an errand to run. We stopped there and that's where I picked up my Tick comic as well as a couple of others. There was a "sidewalk sale" of a bunch of stuff T-shirts, and there was a Godzilla shirt that August liked. $5, I thought it was worth it.
I picked up Star Wars issues 1 -4 here as well. My first comic book purchase in decades.
I haven't set foot in a comic shop in over 20 years. The last time was to sell my collection for rent back in 1992. I have what can be referred to as "a past" when it comes to comics. While I was looking forward to taking August and the other kids to the local comic store this year, there was a part of me that was dreading it.
Much of what stopped me from buying comics in general is the cost. It is too prohibitive to actually get invested in the stories. Sure you can buy one or two a month, but the stories and characters interconnect and the whole of a universe tells a much larger story. Look at the Marvel Cinematic Universe for a prime example of this. Now picture that on a monthly basis with, say, 30 titles at $5 or more each.
I had been sitting on the fence about getting the Star Wars comics ever since it was announced Marvel would be publishing them. Ultimately I was enticed to try them because I heard good things about them, but mostly because they would be considered canon, officially tying into the film and television series.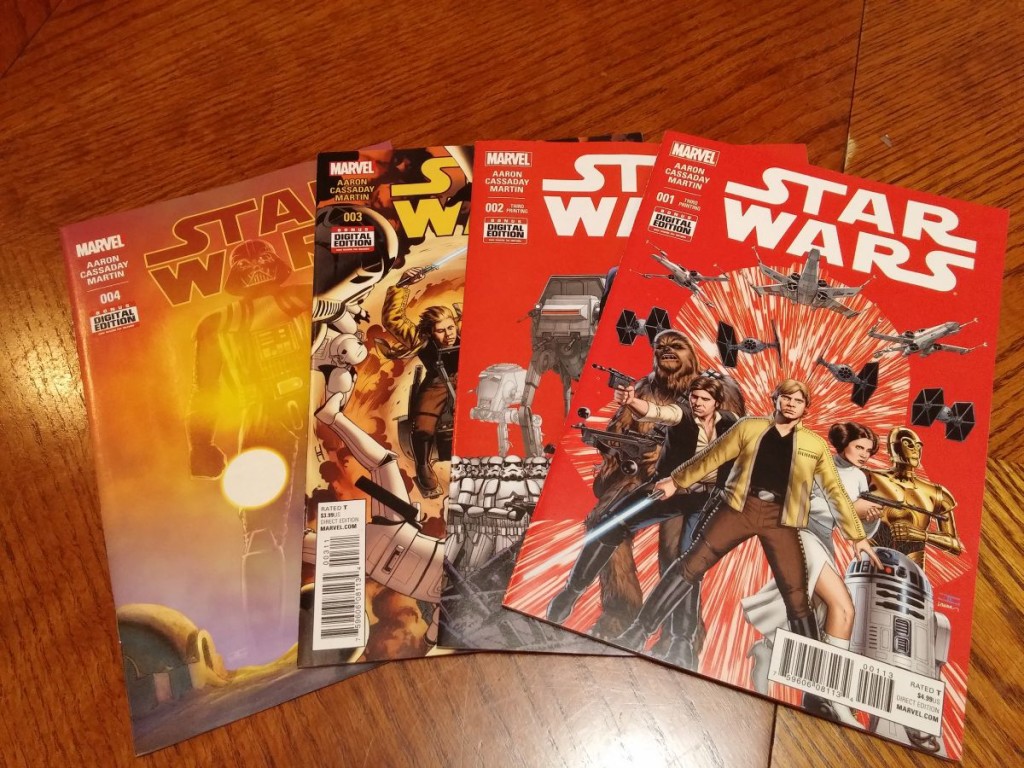 Looks like I'm going to have to subscribe.
Back home we picked up Ciaran and Xavier then went to pick up Dela from dance class. On the way home we stopped off at the local comic shop, the one that is a few blocks from our house. This is where I truly regret not getting any pictures because there was much cosplay going on here.
Each of the kids picked up a couple of the free comics – and no I don't have a picture of them because the are all squirreled away in their rooms. Oh well. There I purchased a Marvel Adventures Hulk collection for Xavier (his favorite character) and a Spiderman collection for Ciaran. August picked out some old Superman comics from the 3 for $1 bin.
For myself I picked up Munckin 1 -4 and noticed that a new Flash Gordon comic was being published. There seemed to be a few older issues of a limited series, but the current series was also available and I picked up issues 1 – 3 of that.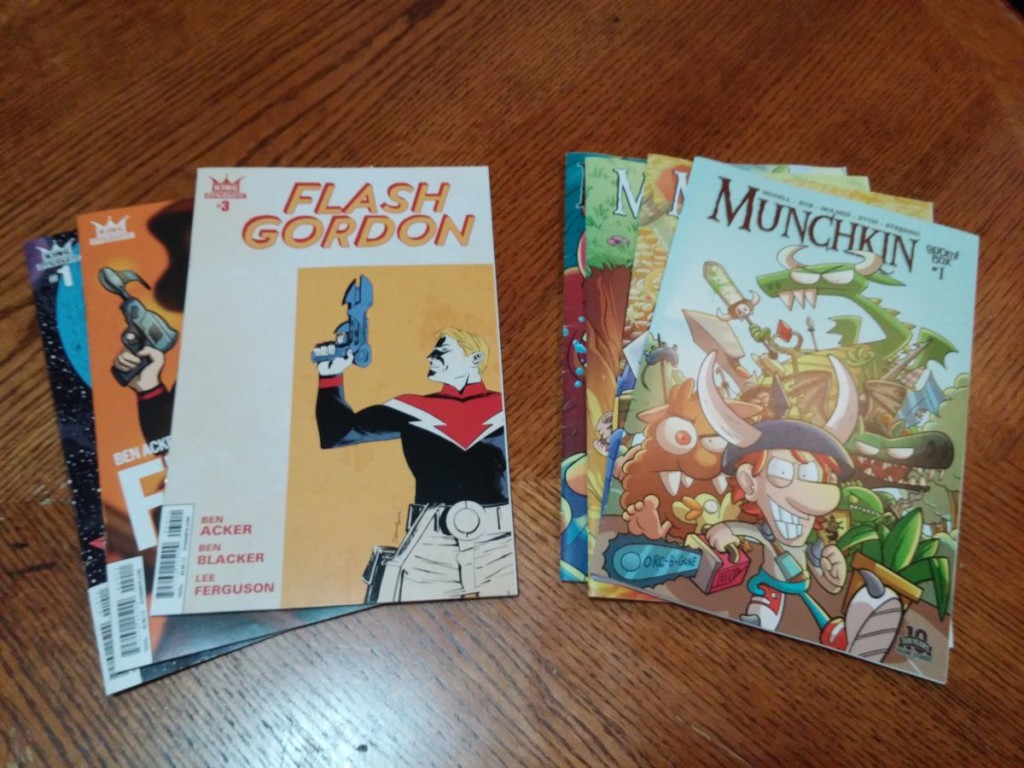 I was asked at the check out if I had borrowed some of these kids in order to get more free comics. I assured the clerk that these weren't even all of my kids.
When we got home I looked online at the Flash Gordon comic publisher and there is a lot of great comics that publisher has. And that newer Flash Gordon comic was part of another limited series. Issue #4 apparently was already published and should have been available at the comic shop. I ordered the last issue as well as an omnibus of the previous limited series and a couple of other things.
At least the Flash Gordon has a finishing point. I'm going to be subscribing to the Munchkin and Star Wars titles. Free comic book day? Yeah, not so much.