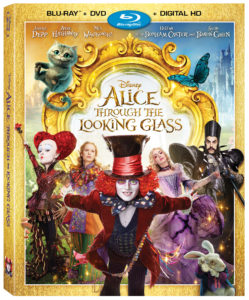 Tim Burton doesn't do sequels. Look at 2001's Planet Of The Apes or 2005's Charlie And The Chocolate Factory. Both films were set up specifically to have sequels but nothing came. Sure, Tim Burton was behind 1989's Batman and 1992's Batman Returns but that was the only instance. Instead of filming a sequel to 2010's Alice In Wonderland, Tim Burton instead worked on 2012's Dark Shadows, which is another film in need of a sequel.
What we get, six years after Alice In Wonderland is Alice Through The Looking Glass, directed by James Bobin (The Muppets). The screenwriter is the same, fortunately, (Linda Wolverton) and much if not all of the cast reprise their roles. This feels very familiar, but the biggest problem Alice Through The Looking Glass has is that it takes too long to get started. Fully a whole third of the movie is over before the action (and plot) pick up steam.
There are some great "time" puns and use of time as an effect with the characters and storytelling, but it isn't enough. The story is a bit weird, which is fine, as I would actually be a little disappointed if it weren't. Hatter's family is at the center of things and how it intertwines with that of the Red (and White) Queen. There is a bit of an origin story going on as well, which almost feels a bit much, but it works out fairly well.
As expected there are plenty of special effects, so much so the whole film could almost have been computer animated. The performances are suitably over the top as well. Are either of these things detriments to the film? Yes and no, because they are part and parcel with what it is supposed to be. Again, the biggest problem I had with Alice Through The Looking Glass was how long it took to get going.
In taking so long to get going we lose the sense of wonder, the sense of discovery that we had with the first film. Since we are revisiting these characters it is inevitable to have some diminished wonder and discovery, the realm is large enough to still pack in some surprises, of which there was very little of here.
That said, Alice Through The Looking Glass is still enjoyable. James Bobin does a very capable job of filling in for Tim Burton, the cast is certainly game for whatever antic they are asked to perform and the plot is at once confusing and overly simple. Kids should be able to watch it without too much problem – at least older kids.
Plenty of special features are on the disc, starting with an audio commentary by director Bobin. There are also some snipped scenes with optional audio commentary. Watching these made me wonder what else was left on the cutting room floor. Bobin does a decent job of entertaining and informing along the way, so if audio commentaries are your thing, you'll definitely want to check it out.
A few featurettes are here, artificially chopped up and separated, of course. There's a general "behind the scenes" look, one on costuming, and another on the characters. Two "scene peelers" look at two different scenes at various stages of production and what went into them, a music video and a behind the scenes for the music video as well.
All told Alice Through The Looking Glass doesn't live up to its predecessor but it is still enjoyable and has enough packed in to make owning it worthwhile.