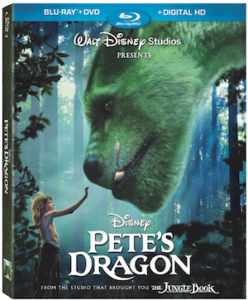 Look at the cover. It says "From the studio that brought you The Jungle Book" referring to the recently released live action remake of the Disney animated classic. It pointedly is not referencing the original Pete's Dragon, as "From the studio that already brought you Pete's Dragon 40 years ago" would be weird.
I say this not to disparage this release, but instead point out Disney has shifted from direct to video animated sequels, a practice which John Lasseter has largely shut down. Instead the trend is to offer up live action remakes of classic animated films – in this case Pete's Dragon was a combination of animation and live action with the titular character being animated.
Alright, enough introduction. Is this film any good? Does it stand on its own? Does it honor the original film?
The answers are "Yes" for the most part. The spirit of the original is certainly honored, though this is certainly not a straight remake. Instead it is a reimagining. The new script by director David Lowery and co-writer Toby Halbrooks takes the concept at the heart of the film's story and provides new context for today's audience. What I found interesting was how the film is still a period piece, instead of taking place a hundred years ago, this verison of Pete's Dragon is set approximately 25 years ago.
Oakes Fegley portrays Pete, a young boy who has undergone a tragedy a few years earlier (which is played out at the film's opening). He does a great job with the emotions of wanting to connect, not being trusting, and in one sequence physical pain at being caught. The animation of Elliot, the dragon, is also very well done. Instead of something that looks somewhat out of place (see the 1977 original) but is still magical, we get a creature that blends in with the scenery and is full of emotion.
Having Robert Redford in the film, his character, it's a great touch. There is less cause to wonder about Pete's mental state and the story focuses on the established myth of the dragon. Having his daughter as the skeptical park ranger also works well. Alright, so the weakest part of the film is her character's relationship with the head of a logging firm, it is a little bit too contrived and convenient. Looking past this, which is easy enough to do, you get a very heartwarming story.
Personally, I think Pete's Dragon would have been better served without the first 5 minutes or so and the last minute (though the narration should remain). We get a little too much in the way of exposition. The film suffers a little bit for this and may not hold up to repeat viewings by adults, but the kids will want to revisit this story for certain.
Where the original 1977 movie was a musical, this version instead uses songs played over various moments in the film to underscore various emotional or plot points. I think it was overdone. A simple score would have sufficed. This, however, is personal taste, and the film is fine either way.
Special features on the disc include an audio commentary featuring the film's director and co-writer  David Lowery along with co-writer Toby Halbrooks and the two younger stars of the film  Oakes Fegley and Oona Laurence. The youngest of viewers might not enjoy this but older kids (and their adults) might find this entertaining and informative. Co-writer/director David Lowery offers some thoughts in a featurette "A Director's Diary" which feels like a highlights section for a much more involved item. A couple of minutes of featurette are focused on the special effects of Elliot, and another couple on the New Zealand filming location. A few deleted scenes, blooper reel and a couple of music videos round out the offerings.
Expecting a straight remake will disappoint, but going in with an open mind (and heart) will reward families with a good movie. Younger viewers might be a little traumatized by some of the heartbreak Pete experiences, but it can also be a good opportunity to talk about empathy. I think Pete's Dragon might be a little much for Kindergarten age kids, but your mileage may vary.