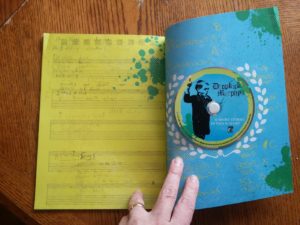 So I picked up Dropkick Murphys new album. And I decided to spring for the deluxe edition. This comes with a 26 page book featuring lyrics, photos and more. I was looking forward to this item. Ultimately I was disappointed when it came because the booklet is alright, but the disc itself is housed on the inside of the back cover. This makes it highly inconvenient to  take and listen to in my car, or loan to my friend who in interested in hearing it.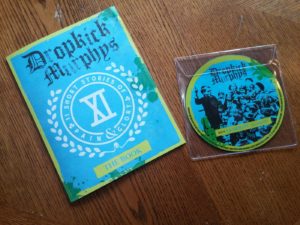 The deluxe edition comes with a picture disc, a little bigger than a 45 with "Blood" on one side and and acoustic version of "Sandlot" on the other. Preordering the album gave you a digital download of "Blood", the album's first single, but not the flip-side, the acoustic version of "Sandlot" which I really want to hear. Unfortunately, due to a couple of different circumstances I am unable to get my turntable out of storage and set up to hear this one song. Why aren't we given a download code for this song?
With the deluxe edition running $34.99, the album itself at $19.99 for the vinyl and $10 for the CD, I am left to wonder why I spent so much on the deluxe edition. I do not think I got a good value for my money.
Which is sad because the album itself is great, probably their best yet.
The album opens up with an instrumental that reminds listeners that the band does have some amazing musicians. Then the chanting comes in and you feel as if this could easily be an anthem. And this sets the tone for the whole album.
"The Lonesome Boatman"
It isn't until the 3rd song the bagpipes show up, but they kick in it is for the rousing first single off the album "Blood" which is a call to arms. The attitude of the band has always been to never back down and this in many ways could easily be the band's theme song.
The line "wicked unemployed" makes me chuckle every time.
"First Class Loser"
11 Short Stories Of Pain & Glory has a number of anthemic songs, with "Paying My Way" acting as another song that could easily be a theme song for the band.  The songs here are almost all about being resolute and steadfast in the face of adversity. Some of this is addressed directly in the song "4-15-2013" which is about the Boston Marathon bombing  and the unity of the city, and really all of us, had after that incident.
I recommend 11 Short Stories Of Pain & Glory, just think long and hard about springing for the deluxe edition.