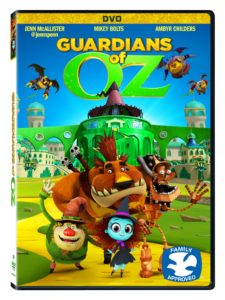 Following the events portrayed in The Wizard Of Oz Glenda the Good Witch actually brought back Eviline (a.k.a. The Wicked Witch Of The West) in order to give her a second chance. To help in this regard Eviline's powers were stripped from her and transferred to her broom and given to the Lion, Tin Man and Scarecrow for safekeeping. Enter the flying monkeys and Ozzy, son of the head monkey. He is small, doesn't fly well, and winds up getting the broom.
Glenda is in a bit of trouble of her own, the Lion, Tin Man and Scarecrow have been rendered useless and Eviline is after Ozzy to get her broom back. This leads to Ozzy meeting up with Gabby, an apprentice to Glenda, and the two of them embark on an adventure to save Oz.
Co-written by the writers of Book Of Life, Guardians Of Oz is an original tale, a sort of sequel to The Wizard of Oz. There is one throwaway line which references Jack Pumpkinhead I enjoyed. Some of the visuals also reference the land of Oz in a neat way for those of us who have read some of the books. There are a couple of plot holes and contrivances but there is enough here to make the film enjoyable.
Special feautres start off with a behinds the scenes featurette which runs about 10 minutes and the film's trailer. Then there are four segments of the series "minuscule" which are not connected to the film in any way but are interesting to check out.