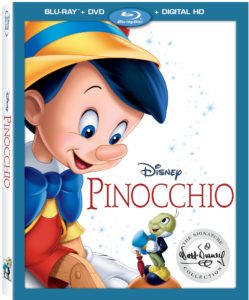 "What do you mean you haven't seen Pinocchio?"
I assumed with the plethora of streaming options as well as our physical disc collection the kids have all seen this Walt Disney classic. I was wrong. A trip to our basement to peruse the shelves netted no result (Where did my previous copy go?), so when the offer came to review this new edition I gladly jumped at the chance.
Are you not familiar with the film? Alright, so maybe you are. Even if you haven't seen the film you at least are familiar enough with the story of a marionette who wishes to become a real boy there is the whole journey he undergoes that makes this film hold up under repeat viewings.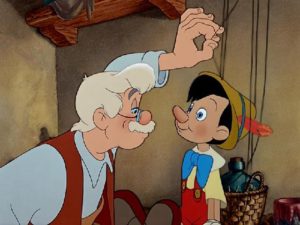 Most people sort of remember the beginning, the character of Jiminy Cricket, something about a donkey, a whale, and Pinocchio turns into a real boy. At just under an hour and a half there is plenty of story to be told, even with the first 25 minutes or so seemingly padded out. I had forgotten how slow of a start the movie has.
Though the first act is padded out it is beautiful to watch. The animation is fantastic though you might not realize it looking at these pictures. My computer won't take pictures of Blu-ray discs so I had to use the DVD. Blech.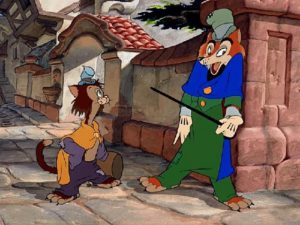 Actually, I had forgotten some of the story, such as how Honest John and Gideon trick him into working for Strombolli. This is where the lying comes in, and while I remember the image of Pinocchio in a cage with a long nose, there were plenty of details I had forgotten.
Of course there is Pleasure Island, another portion with some great iconic imagery and animation. Of course there is the scene with the whale, but that's only part of the story. How Pinocchio gets from Pleasure Island to inside the whale is filled with even more great animation – even if the storytelling does feel a bit arbitrary.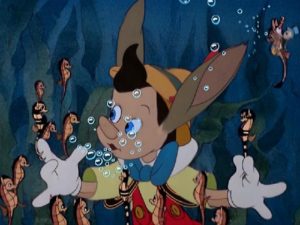 Essentially, Pinocchio is an absolute classic that can be seen as a morality tale as well as simply a marvel of animation.
For this Signature Edition it appears as if all of the previous special features from previous editions are carried forward with one exception. The storyboard to final film presentation is here, but only offers up a few minutes worth of material. I remember a previous Blu-ray edition having an option to run the whole of the film with such a feature alongside the audio commentary, which does return, just without the supplemental visual material, and I am rather disappointed about that.
As for the other supplements, the audio commentary is great, the live action reference is cool to watch, there's deleted scenes, and plenty more. We also get a few new special features for this edition, starting off with The Pinocchio Project, where some young musicians (who I have never heard of) take on "When You Wish Upon A Star". Then we get a recreation of story meetings based on archival audio recordings. More archival recordings are used to present Walt himself discussing the film and finally we get an Oswald The Lucky Rabbit short.
The bottom line is Pinocchio belongs in your house. There are enough special features to make this well worth purchasing, especially if all you have is an older DVD or VHS copy. If you own the previous Blu-ray edition you might want to keep a hold of it, but some of the new special features (the archival audio particularly) can be awfully tempting.