I saw Lou Reed perform in 2002 at the Bumbershoot festival. He was getting ready to release The Raven, an album consisting of material inspired by or with lyrics taken from the works of Edgar Alan Poe. There were some of the classic songs of course, but he was certainly eager to showcase the poetry he was setting to music.
This is what I imagine to be the driving force behind Lou Reed's career. The man offered up your typical rock and roll music, but he also used rock and roll and an art medium. Where Bob Dylan raised the stakes with rock and roll as poetry, Lou Reed saw rock and roll as art, all the way starting with his original band The Velvet Underground.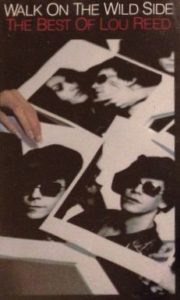 I had known about Lou Reed for a while before I picked up my first album at some point in the mid-80s, his first "greatest hits" compilation Walk On The Wild Side: The Best Of Lou Reed. It was a cassette, and I played the heck out of it so much it began to wear out. Then in 1989 his album New York came out and I picked that up. It remains one of my favorites of his to this day, but that's another story.
It wasn't until the 90s I started getting more into Lou Reed, but not in the same way I have with may other bands and musicians. I would pick up an album every now and then, picked up another compilation of his earlier stuff, and eventually got to see him perform.
Over the years I have grown to appreciate more and more Lou Reed's artistry and his use of rock and roll as an art medium.
Last year my "artist of the year" was Queen. I had wanted to finish collecting all the band's albums in a project I should have chronicled, or even acknowledged better in some way on the blog. When it came time to figure out who my "artist of the year" would be for 2017 I took some time to figure it out. Dropkick Murphys had just released a damn good album and I still had a couple to pick up and complete my collection. I'm working on finishing my collection of Blue Oyster Cult as well.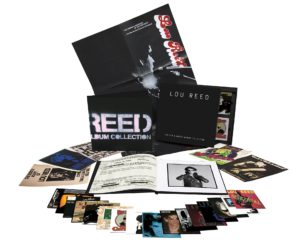 While contemplating the artist I would focus on this year I saw the Lou Reed RCA & Arista Album Collection box set had been released, and there was Lou Reed The Sire Years collection as well. I thought to myself I wonder if it would be cost effective to pick either of them up as I already had a few Lou Reed albums.
Looking into The Sire Years box I found out that I already had half the albums in that box making it not very cost effective. Looking into the RCA & Arista Album Collection I noticed that I did not have any of these albums, save one or two on cassette. How did that happen?
I had a few gift cards to Best Buy and the price of the box set would just be covered, so I decided that Lou Reed would be my artist of 2017 and this purchase would take me most of the way there.
So I got it.
I really like this set. The focus is clearly on what matters, the music. There are some drawbacks, such as having a recreation of the albums as originally issued means we are missing the bonus tracks released on whichever deluxe reissue came out (such as Cony Island Baby). As a whole, however, this box set is much better than my previous big money box set purchase. The Pink Floyd box sets have a lot of extraneous material that is cool, but ultimately drove the price higher than necessary.
When I don't know what else to write for Music Monday I'll be going through Lou Reed's catalog, starting off with his solo debut album. I am looking forward to my "artist of the year" project, partly because I will have all of Lou Reed's albums in my collection but also because this will hopefully be an interesting series of posts.