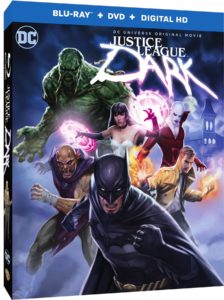 When some strange occurrences start happening throughout the country and even the world, the Justice League doesn't know what to do. People are seeing demons instead of their family members for example. Batman gets the message to find John Constantine, contacts Zatana, and a group of heroes (or anti-heroes) connected to the supernatural are gathered.
Constantine, Etrigan, Zatana, Deadman and Batman team up and we wind up meeting Swamp Thing, Felix Faust and a number of other characters from the DC universe. Having Batman included here is actually the weakest part of the story. His appearance does not add anything, and I think the story would have been stronger had Superman, a hero who is powerless against magic, been the one to gather the team featured here. Perhaps even Wonder Woman, who has a magic lasso, so she should be somewhat familiar with the elements at hand.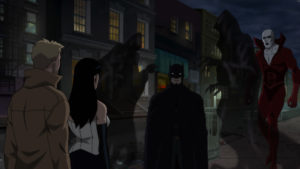 When ordinary people start randomly performing some horrific acts the Justice League initially chalk it up to some regular crimes. Deadman knows better, urging Batman to contact John Constantine. He in turn realizes he is out of his depth and requires some help.
One of the big attractions to Justice League Dark is the reprisal of Matt Ryan to his role as John Constantine. There was a time when it seemed impossible to bring the character from the page to screen, and now it seems impossible to have anybody else perform the role, even animated.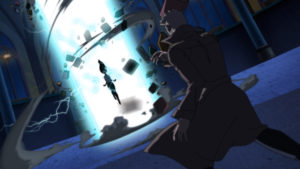 Unlike previous DC animated videos this one is rated "R" and it isn't just because of the subject matter. Justice League Dark does get a bit graphic and some of the images can be a little disturbing. Sure, it's just animation, but for impressionable young viewers the rating is appropriate.
As a story, a mystery or a case, however you want to approach it, Justice League Dark is certainly satisfying. While it seems like it should unfold with the obvious plot points, there are a couple of nice twists to it I enjoyed.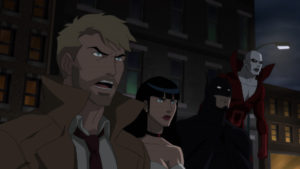 Special features are a bit of a mixed bag. There are episodes of "Batman: The Brave And The Bold" which have been made available previously. A few "Did You Know" featurettes are all artificially chopped apart looking at various aspects of making Justice League Dark such as the color scheme of magic used in the film, casting Nick Turturro as Deadman, and more. I would have been happier with all these in one comprehensive behind the scenes featurette. One interesting featurette is "The Story Of Swamp Thing" which is interesting, especially as it features co-creator Len Wein. There is an 11 minute featurette looking at the next film, Teen Titans: The Judas Contract, but no audio commentary or comprehensive "making of" for Justice League Dark.
If you like the character of John Constantine at all this is worth purchasing.