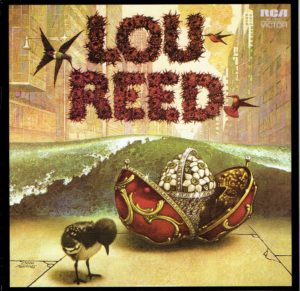 It took a few songs to figure it out. Something was off. The problem wasn't consistent, but it kept popping up.
Not having heard the self-titled debut album by Lou Reed in, like, well, ever, I was certainly eager to put this one in my player and give it a listen. I had heard several of the songs before from a couple of compilations, so the album did sound familiar.
Coming a couple of years after he left The Velvet Underground, Lou Reed (the album) features songs Lou Reed (the performer) had written for his previous band. While still navigating a more traditional rock and roll path there is still plenty of poetry, literally, in Lou Reed's songwriting and delivery.
And that ultimately is what makes Lou Reed a great musician.
"Walk And Talk It"
This first solo album was recorded in London with session musicians, two of whom were members of the band Yes. I haven't read to many things about Lou Reed in the early 70s so I am not sure if he was fully expecting to get back into recording and performing, which might account for the fact that it was even recorded in London.
Of the 10 songs on this album, two were newly written. Reed had left the music behind so he did not have a ready catalog of songs when he signed his record contract. "Berlin" would be rerecorded a couple of albums later as the title track for that album. Most of the other songs had been recorded with the Velvet Underground, but not released (though most are now available in box sets or as bonus tracks on reissues).
"Berlin" (original version)
As an album it is a bit uneven, the storytelling is not his strongest, but it really does lay out the groundwork for the rest of his career.
But back to the problem I mentioned earlier.
The first half of the song "Lisa Says" sounds as if Lou Reed is channeling Bob Dylan with his vocal. The second half, which is almost a completely separate song, sounds like Lou Reed. This is an album where he is finding his voice. Yes, he sang with Velvet Underground, but here he is finding his own voice, which is different.
"Ride Into The Sun"
It's a good album, but definitely not the one to use as a starting point to learn about the man's career and music.