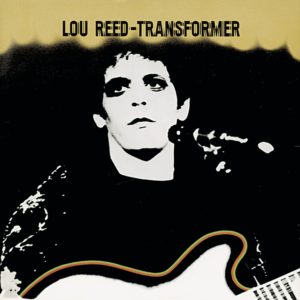 This is the album Lou Reed would try to live down for many years, most of his career even.
I had heard this album years ago but did not have my own copy until I picked up the RCA & Arista Album Collection. it has been, probably 20 years or so since I sat down and listened to Transformer from beginning to end. Certainly I was familiar with several of the songs as several of them are "hits" and gathered on compilations or played on the radio from time to time.
Several of the songs here are absolute classics, perhaps the most noteable is "Walk On the Wild Side" – a song about several real characters Lou Reed knew from Andy Warhol's Factory. And that's not even the best song on the album.
Well, in my opinion.
Actually I'm not sure which is the best song on the album, but "New York Television Conversation" certainly would be a contender.
Transformer kicks off with "Viscious" a song that was suggested by Andy Warhol, then another song, "Andy's Chest" about an attempt on the artist's life. Like his solo debut album, there are songs on here Reed had written for his previous band Velvet Underground, though fewer this time around. "Andy's Chest" is one such title.
"Prefect Day" is a newer song, and could be about spending the day with a person you love or heroin. My personal opinion is that both theories are correct.
One of my favorite songs on the album is "Satellite Of Love" which really shows David Bowie's influence in the recording.
Another favorite on the album is "New York Telephone Conversation", one of the songs originally written for the Velvet Underground. It takes what could be a mundane topic and turns it into a fantastic story, which is what Lou Reed does so well.
Transformer saw Lou Reed, with the help of producers David Bowie and Mick Ronson (who provided lead guitar on the album as well), fully come into his own as a solo musician. Here the stories come to life in a way that we have not heard from him before.
Interestingly, this album, like his previous one, was recorded in London. Certainly it was an odd choice for a New York City based musician to be recording in London as much as he did, but I suspect this was more due to the record label and booking of studio time.
It is easy enough to see why David Bowie would be chosen as a producer, since both David Bowie and Lou Reed were on the same record label at the time. There are touches of Bowie's "sound" in the album, but by and large this is more Mick Ronson's effort, being more credited with the guitar sound of the album as well as playing lead.
Disappointingly what we get in the box set is a reproduction of the album, which means this is not the 30th anniversary reissue which included two bonus tracks, demo versions of "Hangin' Around" and "Perfect Day" –  so I'm going to have to pick that up separately.
Transformer might be, well, it certainly is one of Lou Reed's best albums. If you are looking for way to check out Lou Reed beyond the "best of" compilations,  Transformer is a fantastic album with which to be introduced to Lou Reed.
asdf