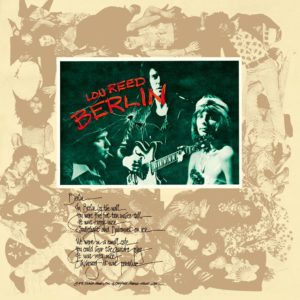 Lou Reed's third solo album saw a change – it was recorded in New York City as opposed to London, where his first two solo albums were recorded. Did this change the substance of the record? No. Berlin (the album) is a sort of rock opera or song cycle that tells a story of a couple strung out on heroin, a topic that Lou Reed was familiar with. Produced by Bob Ezrin, there are a number of notable names who helped out such as Steve Winwood playing organ and Jack Bruce and Tony Levin on bass.
As an album, how does it stand up? There are plenty of accolades for Berlin today, but at the time the album received mixed reviews, probably because many were comparing it to Lou Reed's album Transformer, which was released less than a year previously.
Berlin the album starts off with a different version of "Berlin" the song than appeared on Lou Reed's solo debut album. This sets up the tone of this album being something familiar yet different from what we may be used to.
"Berlin" Lou Reed version
"Berlin" Berlin version
At first the songs do not seem to be connected. It isn't until "Oh Jim" the separate pieces come together. The characters of Caroline and Jim are dysfunctional, coming from backgrounds they are rebelling against when heroin unites them.
While Berlin may be a masterpiece it is not, in my opinion, his best album. It does showcase how he transformed into a long-form storyteller. Previously his stories would last one song but here he takes a theme and runs with it for a whole album.
Berlin can be a tough album to listen to, not because it is bad, but because it is so bleak.
"The Bed"
Like previous solo albums there are a few songs Lou Reed wrote for the Velvet Underground but repurposed for his own album. Berlin is less reliant, however, than his previous two albums. While it is a fantastic showcase of Lou Reed as a songwriter and storyteller it is not the place to begin exploring his solo works.