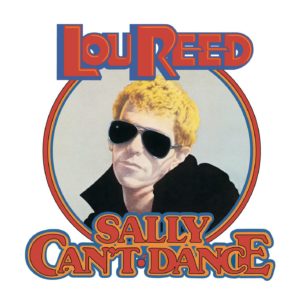 Lou Reed's 4th solo studio album built on the success of Transformer, his second album, as well as his first solo live album. Sally Can't Dance sees the same storytelling narratives getting a more rocking arrangement, with plenty of "punch" to them. And horns. Sally Can't Dance is full of production.
The album seems to capture the essence of what Lou Reed was doing live with the direction he was trying to go with his studio work, which might explain why it was a success upon its release in 1974. As for the songs presented here, they are all original with not one carried over from his Velvet Underground days. This was Lou Reed finding his voice, metaphorically.
Reportedly Reed was disappointed in the finished product, not having taken an active role in the production. He found it too "slick" and while it seems like a decent representation of his sound, it is not what we think of initially when we describe Lou Reed's approach to music, which is usually pretty stripped down to two guitars, bass and drums.
"Sally Can't Dance"
These songs are all identifiable "Lou Reed" in that they are about characters that he could easily have known. The titular Sally could be a friend who overdosed. There are the biographical songs such as "Billy" about a childhood friend and "Kill Your Sons" which is reportedly about his stay in a mental institution as well as being an indictment about the conflict in Vietnam.
And then there are the nonsense songs like "Animal Language" which is… weird.
"Animal Language"
Apparently there is a 30th anniversary reissue of this album which includes two bonus tracks – a b-side and a different version of "Sally Can't Dance" and I am disappointed they did not make an appearance here.
Oh well.
So, Sally Can't Dance is a decent Lou Reed album, but certainly not one to start your collection with. It's a good representation of mid-70s Lour Reed, but perhaps not his most accessible work for modern audiences.