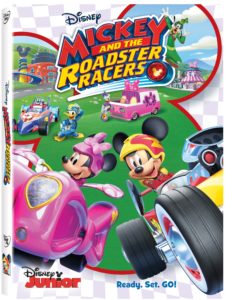 A "Mickey Mouse Clubhouse" spinoff has hit Disney Junior and now the first home video release is available. Mickey, Minnie, Donald, Daisy, Goofy and Pluto hit the road in "Mickey And The Roadster Racers" which follows the same theme as the other series with the gang going about and solving problems, only this time they also are racing their transforming vehicles.
The pacing on this series is quicker than its predecessor – each episode is divided into two segments where "Mickey Mouse Clubhouse" was just the one. This means there's less time for the characters on the screen to interact with the viewer, as well as simply having to move the plot along.
I liked how there are still appearances by a variety of Disney characters, and with the racers not being tied to the clubhouse, a wider set is available for the gang to visit. Oh, there are still the usual suspect such as Pete or Chip & Dale, but there are some others that longtime Disney fans might recognize. And the international location offer up a great geography lesson for viewers as well.
A special feature on the disc is an additional episode, bringing the total to four episode, or eight segments. Actual special features, however, are scant, consisting of two "music videos" but that is not unexpected. Packed in with the DVD case is a physical item – a customizable license plate for a bicycle. It's a nice real metal license plate with stickers for letters and numbers that can be used to customize it.
"Mickey And The Roadster Racers" is not the most educations of programs but it is entertaining for young viewers. The DVD offers up a decent package families will want to check out.