I have touched on the music of Bauhaus and Love And Rockets before, but one band that also shares band members with the other two I have not yet talked about – Tones On Tail. Guitarist Daniel Ash and drummer Kevin Haskins went from Bauhaus to Tones On Tail with another bass player, then reformed with Bauhaus bassist David J. to form Love And Rockets. I became acquainted with Love And Rockets first in 1987. From there I became acquainted in almost equal measure from friends who were "in the know" at the time to both Bauhaus and Tones On Tail. Bauhaus got the lion's share of attention, but I was always drawn to Tones On Tail more as I found it more interesting, musically.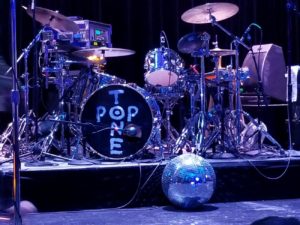 Tones On Tail was a short-lived band, and I never thought I would get to hear any of those songs live. Now Daniel Ash and Kevin Haskins have gotten together again to bring their old music back to life. Recruiting Kevin's daughter on bass (not merely a nepotistic move, she has had her own music career already) gave the two license to visit any track from their past to perform live rather than resurrect one band exclusively. And Poptone was formed.
As soon as I heard Poptone was coming to Seattle I jumped at the chance to get a ticket. I never thought I would hear Tones On Tail songs performed, so this was a show I was looking forward to.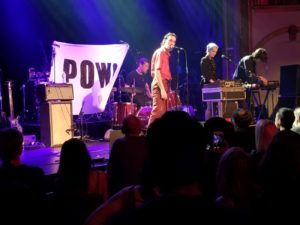 I arrived at the venue just as the opening band started. POW! sounds like they could have opened up for DEVO back in 1981, so naturally I liked them. They don't seem to have an official website but do have a Facebook page. It is kind of hard to tell in the picture, but the drummer is wearing a dog collar. Definitely an early new wave/punk aesthetic going on. The music is very quirky, heavy on the electronics despite the electric guitar. This is a band I want to check out some more.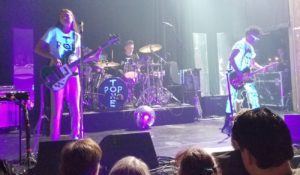 Poptone came out and did not disappoint. Leaning heavily on Tones On Tail material, there was a good sampling of a few lesser played Love And Rockets numbers as well. Those expecting a set heavy on Bauhaus were disappointed, but I certainly was not. There were a few Love And Rockets numbers performed I did not hear when I saw the band in 1989, which was a nice treat, but it was the Tones On Tail tunes that were the main draw – at least for me.
Songs originally by Tones On Tail such as "Ok, This Is The Pops" and "Happiness" were all well recieved, and while I expected more Love And Rockets numbers, I was happy they kept the selection short (though they did play one of my favorites – "No Big Deal").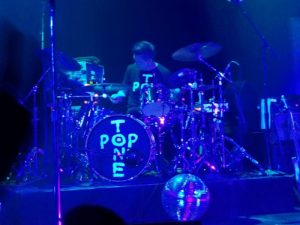 Daniel Ash has aged well, but I must say Kevin Haskins looks like a leading man. He has aged really well and my pictures just don't do him justice. I could easily see him as the star of some film. Not really sure shy I'm bringing this us. I do have to say I have a greater appreciation for Kevin's role in things. When I saw Bauhaus and Love And Rockets I wasn't in a position to see much of what he was doing behind the drum kit. This time, however, I was able to watch him as he handled not only the drums but a number of samples and extraneous bits of electronic sound as well. he had the energy of a drummer a third his age.
I left the venue satisfied that I got what I paid for and expected. The Tones On Tail numbers sounded great, some of the Love And Rockets tunes were pleasantly unexpected, and the whole set was light on Bauhaus (only one if I remember correctly).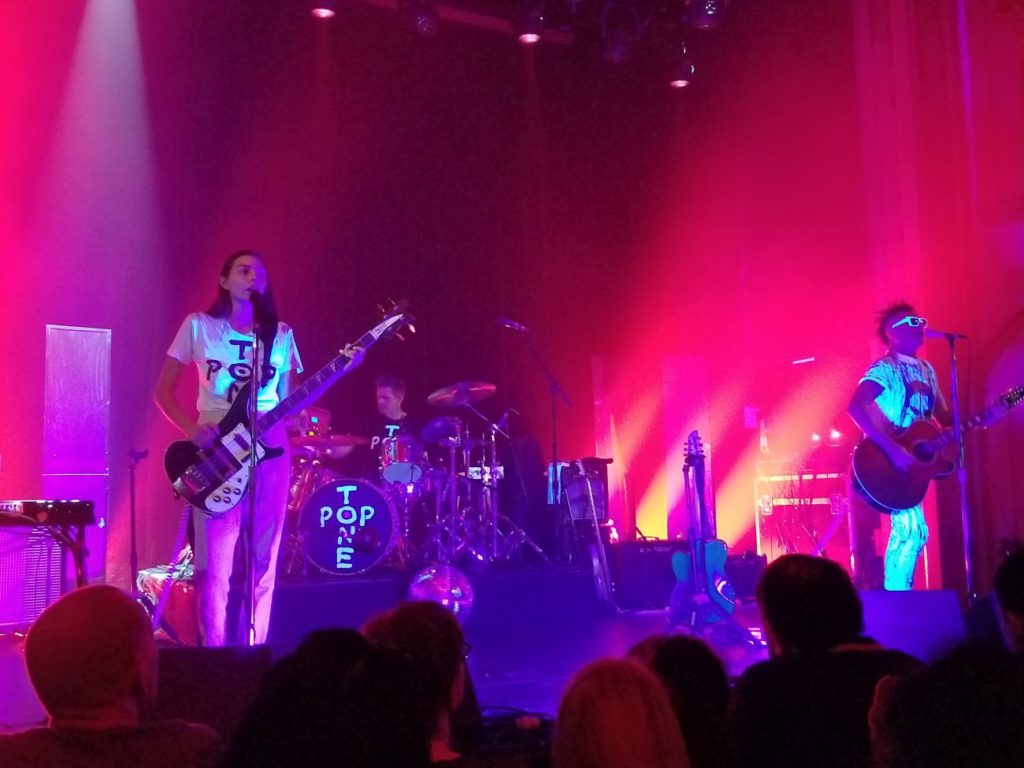 I don't know if Poptone will record an album or do much of anything beyond its current plans for touring. Whatever the future holds for them I will be keeping myself appraised.