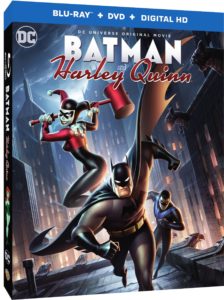 It is fitting the (direct to video) movie starring Harley Quinn would not only have the visual style of the television series that introduced her. Not only that but Kevin Conroy returns to voice Batman and Loren Lester as Nightwing. Bruce Timm returns to co-write the story as well. What we have is a fantastic continuation of the excellent animated series in addition to something that works alongside all of the other recent DC animated films.
Poison Ivy is up to something, something big. She has teamed up with Floronic Man and the two of them are searching for something to do with Swamp Thing. Given her history with Pamela Isley, Batman and Nightwing go looking for Harley Quinn who has apparently gone straight after getting out on parole.
Don't think this is appropriate for kids though. There are some moments that push the "PG-13" rating, in a sexual manner. I was actually a little surprised there wasn't an "R" rating attached to Batman And Harley Quinn.
One very cool scene comes about 30 minutes in featuring a number of familiar background characters and a fun cover of a Blondie song. That seems to be the pervasive spirit in this movie, that it both honors the original television series and characters as well as having a lot of fun with it all. "What if I forget to water myself?" certainly is a line worth hearing.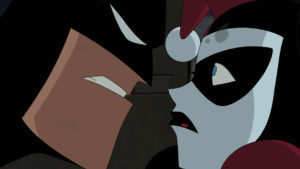 Ultimately this was one of the more enjoyable of DC's animated film offerings in recent years.
Special features are pretty standard. there is a decent featurette with Loren Lester looking at his history as the voice of Robin and then Nightwing. Another featurette looks at the character of Harley Quinn. A couple of episodes from "Batman: The Animated Series" are present as well as some "sneak peeks" at other DC animated movies, including the upcoming one.
Batman And Harley Quinn is one of the more fun DC animated offerings in a while and certainly worth picking up, especially if you are a fan of the excellent television series of which this almost acts as a sequel. And if you act quickly you can get the limited edition which includes a Harley Quinn maquette.