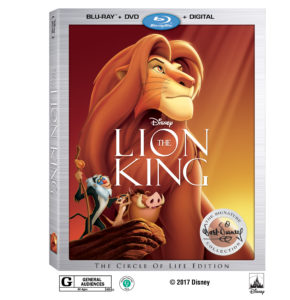 The Lion King is one of those films almost everybody has seen at some point.  This is easily one of the best Disney animated films, so it is easy to see why it is one of the tent poles in Disney's home video release rotation. For those few who have not seen The Lion King, just go out and buy this. You need this film in your library.
Told over the course of two time periods The Lion King is one story, the tale of Simba and his ascension to the throne. A Shakespearean tale (elements of Hamlet, mostly) we have Mufasa and his brother in an uneasy truce with regards to who wields power over the Pride Lands, but Mufasa's death throws the order of succession into question.
Even if you haven't seen The Lion King, you most likely are familiar with the plot and some off the songs. The soundtrack is populated with a number of songs which just won't go away as they are so catchy and memorable.
For this Signature Edition comes six years after the previous Diamond Edition release, and I think this is the same transfer with regards to the video and audio. Essentially this fantastic film looks and sounds amazing.
What many will want to know about is if this Signature Edition is worth spending money of if you already own the film. If you have the Diamond Edition on Blu-ray you might want to hold off, but everybody else absolutely needs to upgrade.
Most of the previous special features are here either on the disc  or online (unlocked by redeeming the film's digital code) such as stuff about the creation of the film's score and songs. On the disc are the audio commentary, deleted/alternate scenes/gag reel, etc. The usual things people gravitate towards first.
New to this edition include a couple of featurettes mostly about voice talent. There's one about Nathan Lane and Matthew Broderick along with a producer, and another on the general voice work and translating that to the visual product. Then there's one about Scar which defies categorization and one much longer (24 minutes) about the "story room" and how storyboards are used and how it all evolves.
The Lion King is one of the best Disney animated films of all time and this Signature Edition package does a good job of presenting it to audiences. If you have the Diamond Edition you may want to skip this rerelease, as the new special features may not be enough to warrant spending the money. If, however, you have only the DVD or, well, I don't want to go there, then it is time to upgrade.