I have discussed the band Dropkick Murphys a couple of times before. There has only been passing mentions of Rancid before on my blog.
Recently I mentioned spending a week at Boy Scout camp, an excursion that was scheduled and paid for before the announcement of the "From Boston To Berkeley" tour was announced. I was frustrated to say the least. Two bands I was highly interested in seeing touring together? Both with excellent new albums recently released?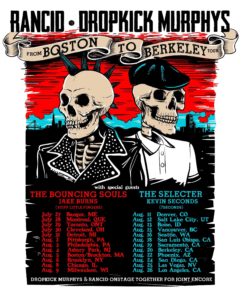 To say that I was tempted to drive the 6 hours back to Seattle for the concert then the 6 hours again back to camp, well, I was tempted. But it was going to be more of a hassle than it would be worth.
So Laura let me fly to the opposite side of the country to see the tour.
This means I got to watch Dropkick Murphys in front of a hometown crowd.
My trip to Boston was going to have to be quick. Between everything that we had going on I was fortunate the concert was taking place on a Saturday otherwise I would have missed out. Using some frequent flyer points I got my free ticket, flying out of Seattle Friday night, arriving in Boston Saturday morning, then the concert on Saturday night, then flying back home Sunday morning.
Tired? Well, yes, but I did manage to get some sleep on the plane.
The concert itself was south of Boston, in a town called Brockton, at the fairgrounds. Getting there was easy enough, but everybody I knew from the area warned me not to linger around or look people in the eye. Apparently this was a rough neighborhood.
Jake Burns from Stiff Little Fingers opened the show right at 6, which was surprising for two reasons. First, did we really expect a show like this to start that early and on time? Secondly, Jake Burns! Now, some people who had been paying closer attention than I knew what to expect, but I was surprised, and pleasantly so.
The Bouncing Souls came on next and did their thing. They were good enough but ultimately unremarkable, at least for my taste.
Then Rancid came on. I was struck by how they sounded exactly the same 20 years later. As in literally the same. As if they had not rehearsed.
Now, I saw this not to be critical, but more as a statement of amusement. The thing is, I like Rancid. A lot. It just struck me watching them live for the first time in a while their records are a great representation of their live show – these guys are sloppy punk rockers.
And in all actuality they probably rehearse a great deal in order to sound like they do.
Dropkick Murphys took the stage and blew the roof off. Well, if it weren't an outdoor venue they would have. An absolutely blistering set.
But that was not the end of it. I expected something from the two bands together, and I was not disappointed.
In addition to Sham 69, Ramones and Clash they covered Johnny Cash.
Easily one of the best concerts I have been to in years.