After the debacle regarding Metal Machine Music and fulfilling his contract, Lou Reed got a new contract at a different label. Switching from RCA to Arista (both now under the ownership of Sony acting as the same label) Lou Reed got to work on a new record.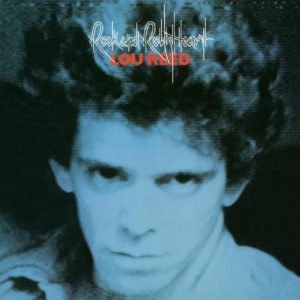 Rock & Roll Heart was released the same year as his previous album Coney Island Baby and featured much of the same personnel. This means some of the songs were recorded during the same sessions. It also means this was a particularly creative period for Lou Reed, having enough songs to fill two album. That said, much like the previous album, Rock & Roll Heart sort of feels unremarkable.
Opening the album is "I Believe In Love" which sounds like a throwback tune to the late 50s or early 60s. A very ordinary and plain song in most hands, but with Lou Reed behind it, there is enough going on to at least make it an interesting listen. This is followed up by the droning "Banging On My Drum" which is much more guitar heavy than you might expect.
It is this dichotomy at the heart of Lou Reed's output in the mid-70s. He is trying some interesting things, something a little different, but much of it is fairly ordinary and not worth listening to if it weren't for Lou Reed himself.
What I think the situation was that Lou Reed signed a contract and his new label was anxious to get a record out as soon as possible. They asked him for one and he dug through his catalog of songs that didn't fit on his previous album as well as whatever demos or half-finished ideas he had and finished them up. Probably there was more left over than you might think because Coney Island Baby only had 8 tracks compared to Rock And Roll Heart's 12.
The title track is, again, a fairly "standard" song, a bit mellow, a slower mid-tempo number that is really brought to life by the keyboard which almost sounds like it was intended to emulate a church organ.
Side two opens up with an instrumental, a real oddity for Lou Reed. Another interesting thing about Rock And Roll Heart is that nine of the twelve songs clock in at 3:05 or shorter. This further reinforces my theory that Lou Reed was working quickly to get a new record out on his new label. "Claim To Fame" really does sound like an unfinished idea that was polished up to get it on the record.
Rock And Roll Heart may have been rushed out to get some new product out for the new label, or maybe Lou Reed purposefully held back a number of songs so as to not release them under his previous contractual obligation. Whatever the circumstances, I find Rock And Roll Heart a much more "listenable" album than Coney Island Baby.