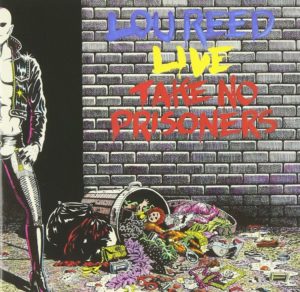 The concert kicks off with a strong rendition of "Sweet Jane" originally performed by Reed's previous outfit The Velvet underground before he embarked on his solo career. What makes this version interesting to hear is how it varies in its lyrical content. Reed is in a very good mood apparently and ad-libs quite a bit not just in this song but throughout the whole performance.
Besides "Sweet Jane" two other Velvet Underground songs are performed – "Pale Blue Eyes" and a very extended version of "I'm Waiting On The Man". All of the songs are extended in some way, with the shortest being "Berlin" at 6:13.
Take No Prisoners is a great live look at Lou Reed's "early" solo career as it contains the performer in top form with songs from his solo career as well as Velvet Underground, mirroring the makeup of his albums up to this point.
Unfortunately all of the songs are too long for me to upload and share with you, but I will say that if you are a Lou Reed fan, particularly his early work, this is a great live album to pick up. He has found his "voice" as a solo artist and this album captures him finally settling into it.
I should mention something about this being a binaural recording but… well, that's it.