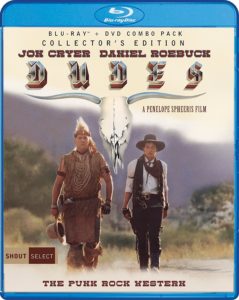 I don't know how many years it has been since I've seen Dudes. When it came out in the late 80s I was 20 and well into punk rock. In a way I romanticized the lead characters here, New York City punk rockers who decide to go to the promised land of California. There is Jon Cryer in one of his better roles as Grant, Daniel Roebuck as the mowhawked Biscuit and Flea (yes, that one) as Milo. The three characters represented an ideal that my friends and I sort of aspired to.
It takes about 20 minutes for them to meet up with the main antagonists (yes, the film is slow to start) but this film is a fish out of water story in a way, but the fish are very different from what you might be used to. Part fish out of water, part road trip, part revenge story, Dudes is an amalgam of different genres directed by Penelope Spheris and written by Randall Jahnson that somehow works.
Much of the reason Dudes is effective is that it is a relatively lower budget action comedy and it isn't trying to be something it isn't.
One of the greatest supporting characters in the movie is Daredelvis, an Elvis impersonator who does a little bit of everything on the side. He is portrayed by an actor Pete Wilcox who could have easily been the next Bill Paxton. The antagonists are led by Lee Ving (Clue, Streets of Fire) who plays the role with relish.
Dudes is a ridiculous film, and I freely admit it. Partly guilty pleasure, but also just becuase it is a good story. It holds up because instead of city punks the protagonists could easily have been bankers or college students or immigrants. The "promised land" could easily have been New York City or Florida instead of California.
Shout Factory brings the film to Blu-ray in a great transfer with a couple of special features. First up is the vintage featurette on the making of the film which runs about 6 minutes and gives a brief overview of… well, the making of the film. Much better are the newer interviews with cast and crew – and one of the better ones is with Daniel Roebuck being interviewed by Penelope Spheris. It runs 25 minutes and is ridiculously informative and entertaining. I wish the two of them did a full audio commentary.
Spheris also interviews Flea (another 25 minute featurette) as well as Jon Cryer (30 minutes) Additional people on camera Randal Jahnson, Catherine Mary Stewart and producer Miguel Tejada-Flores. These are all great and well worth checking out.
Dudes is much more than a "punk rock western" – it was one of the only films of the time to treat punks as real people, not caricatures. But that's not why the film holds up today. It is a universal story where anybody could be the fish out of water in a difficult situation. This Blu-ray does a great job honoring the film for longtime fans as well as packaging it for newer ones to discover.