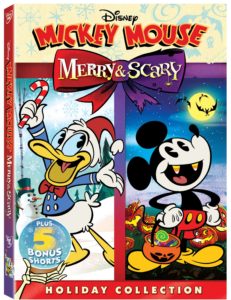 While we aren't getting Disney animated shorts with the same frequency as we used to, there are at least we are getting something in the way of Mickey stories. There is a new series in an animation style that older fans are certainly are going to have to get used to – the style seems to be much more John Kricfaluci than Ub Iwerks.
The running time for each episode of this new series is pretty short, almost as if these should have been theatrical shorts but instead are being presented for television. This is fine, really, though I would like to see more theatrical released. For this (relatively new) series two specials have been produced. One is Halloween themed and the other Christmas.
"The Scariest Story Ever: A Mickey Mouse Halloween Spooktacular" has Mickey, Donald and Goofy attempting to tell a scary story, only to fail miserably. Them Mickey decides to tell the story of little pie thieves who get their comeuppance. This is a newer special and runs the length of a regular half hour show if you include time for commercials.
"Duck The Halls" A Mickey Mouse Christmas Special" which was initially broadcast last year. Here the focus is more on Donald who should have gone south for the winter bet instead decides to stay and enjoy Christmas. Ducks and winter don't necessarily mix so Donald gets into trouble and his friends need to bail him out.
Special features are pretty short, just a few episodes of new "Mickey Mouse" series, but certainly enjoyable.
There are not a lot of Halloween specials, and Christmas specials are far too plentiful. What I like about this home video is that we get a much different take on the Christmas special, and the Halloween special is actually pretty good. Mickey Mouse fans should look into picking this up.