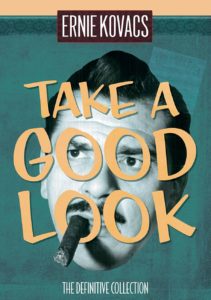 Ernie Kovacs was a comic genius. His work in the early days of television helped stretch and define the medium by using a mixture of live and filmed segments along with special camera effects. Where technically his influence is undeniable, it was his humor that was so engaging and is still relevant today.
At times absurd visually, others wordplay, and sometimes the most obvious visual pun, Ernie Kovacs was a master of wringing humor out of any situation. It was this skill that enabled his game show "Take A Good Look" to work. You could see "Take A Good Look" as a send-up of the popular show at the time "What's My Line?" in which a panel of celebrities attempt to guess what line of work a contestant does, or what it is that makes them stand out in some manner. "Take A Good Look" follows a similar format, but with Kovacs' humor.
Clues are often only tangentially connected to the person the panelists are trying to guess the identity of. And that's part of the fun.
Over the course of the series a number of notable panelists showed up regularly, including Cesar Romero, actors Ben Alexander and Hans Conried and of course Edie Adams (almost always making some sort of grand entrance). Others who showed up include Jane Wyatt, Mort Sahl, Jack Carson, and Carl Reiner. There is a surprising amount of regularity with the panelists, but they aren't the focus of the show so it does not matter.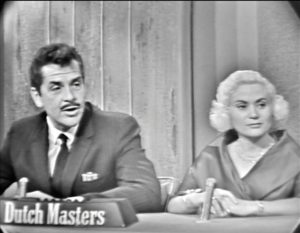 "Take A Good Look" focuses on two things – Kovacs' humor and (mostly) ordinary people who did something newsworthy. There was a reporter who had recently won the Pulitzer, the woman who spent her honeymoon in a bomb shelter, the championship boxer, a baseball pitcher who pitched a perfect game (one of several baseball guests on the series), and many others. A number of these people come from the sports world, but some are just…. wacky.
Over seven discs we get a lot of bizarre and wonderful examples of Ernie Kovacs humor. You will laugh. A lot. If you order through Shout Factory (quickly) you can get a copy of "Private Eye, Private Eye" Kovacs' take on the spy genre. I wish I had gotten a copy of this to review because the thought of Kovacs taking on the spy genre is certainly intriguing.
I have talked about Ernie Kovacs a few times and each time I have the opportunity to watch something of his I will take it. I am not old enough to have watched his stuff when it was first broadcast but certainly old enough to know his influence.
This DVD set is a must-own for fans of classic television humor.