"Warner Bros. Home Entertainment provided me with a free copy of the DVD I reviewed in this blog post. The opinions I share are my own."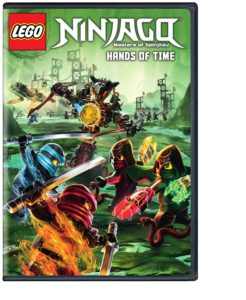 During the 2nd season of LEGO Ninjago: Masters of Spinjitsu" I was wondering if the creative team would be able to keep things up because it appeared the show was running out of steam early. Fortunately not only did the show get refreshed fut it found its footiing and continued to be a strong enough presence in the LEGO pantheon to have a movie (which is sort of loosely based on the early seasons, but not really) released. So not only has the series thrived and continued, it seems to be getting better. Season seven might be the best yet. Clearly the writers know their material and are really comfortable with messing with the formula enough to keep viewers guessing what is going to happen next.
As the "Hands Of Time" title might indicate, this season sees the Ninjago dealing with the threat of time, specifically time travel and the "Hands of Time" – Arcronix and Krux, old enemies of Master Wu. And while it has been a few seasons since we have had snakes as enemies, the ones used here are very different from the ones we saw in the first couple of seasons.
If you are new to "LEGO Ninjago: Masters of Spinjitsu" this might not be the best place to start. There is a fair amount of character development, which is probably the biggest saving grace for the series. This season is no different and we get some time (ha) to focus on Kai and Nya.
After giving over to the science fiction and fantasy genre blend that is "LEGO Ninjago: Masters of Spinjitsu" when the ridiculous happens it does not feel out of place. That is why this season works. The world and characters have been established sufficiently enough to build these stories upon.
Complaints? Well, a couple of special features would be nice. Because this series has survived this long (remember "Legends of Chima" or "Hero Factory"?) the people behind the scenes obviously have something to say, so an audio commentary or two would have been nice.
If you are a fan of LEGO television series then "LEGO Ninjago: Masters of Spinjitsu" is already on your radar, and rightfully so. This is a solid series that blends action, humor and just enough drama to keep everything moving forward. Well done.