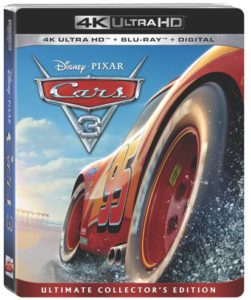 I will freely admit to not being readily eager to watching Cars 3. After Cars 2 I wasn't sure if the franchise had enough to tell a third story. While there's a bit of a plot retread with the first film, it works.
A new racer is taking the Piston Cup circuit by storm. Ha. The racer's name is Jackson Storm. Get it? Alright, sorry about that.
In his rush to catch up to Jackson, Lightning McQueen suffers a major injury on the track. This leads to the story of McQueen trying to get back his "magic" and race again to win. He starts a new training regimen (sound familiar?) and winds up in many new and uncomfortable situations.
There are a number of great scenes, and the character growth that Pixar is famous for is back on display here, mostly with regards to his new trainer, Cruz. This new trainer sort of fills in the place Doc Hudson left, but what Cars 3 does with her and the legacy of Doc is really nice. Tearjerker moment at about an hour and seven minutes in.
When the climactic race happens we see a major bit of character growth, restoring my faith in the franchise. What Lightning McQueen does (without giving it away) mirrors what he did in the first film making for a very satisfying story.
Almost all of the original cast returns for this outing. There are a couple of notable absences, of course, what with the actors being deceased. Paul Newman's Doc Hudson shows up in flashbacks with archival recording and unused dialogue. The same goes for Tom Magliozzi (I don't remember  if he is "Click" or "Clack") as one of the two brothers behind Rust-Eze. Lloyd Sherr stepped in for the departed George Carlin for Cars 2 and continues on here. The surprise comes with Michael Keaton's Chick Hicks returning but with Bob Peterson, Pixar voice actor, writer and director.
Surprisingly there is a decent selection of special features across the two discs. Things kick off with an audio commentary by a number crew members discussing the franchise, themes and more. It's a solid offering, though I would have liked one with the screenwriters and a couple of voice actors as well. There is, of course, the animated short that accompanied Cars 3 in theaters. Also on the first disc is a short featurette looking at Cruz, the new character who has the role of Lightning's trainer and a (fake) commercial aimed at aging cars. Then there is a few minutes spend with a real race car driver.
On the second disc we get the requisite trailers and promo bits along with a good chunk of deleted scenes. Some weird "first car" bits are here as well as a couple of looks at a few of the new locations featured. The rest is the standard "behind the scenes stuff artificially chopped up. I would have preferred to have this 40 minute stuff stiched together and expanded – perhaps as picture in picture along with the main feature.
Cars 3 is good, much better than expected. Actually, I would pair it with the first film for a solid double feature. This Blu-ray does a solid job of bringing it home.