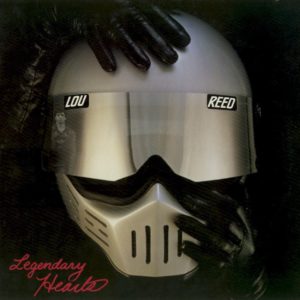 There are a lot of shorter songs on Legendary Hearts. Of the eleven songs, only one clocks in at over 6 minutes, with four under 3 minutes and six between 3 and 4 minutes in length. Did returning to his previous record label do something to Lou Reed? His previous album, as well as this one, both released through RCA, which was his record label before switching to Arista for a few albums, feature a number of shorter songs. I mention this not as a criticism, merely an observation.
Married life seems to be doing well for Lou Reed as well. The stability suits him, perhaps as he is able to focus on his creative work a bit more. Whatever the case may be, a combination of the times, his home life, support from the record label, whatever, Lou Reed's output in the 80s was steady and consistent.
Legendary Hearts opens up with the title track, which starts out slow and you might be fooled into thinking it is going to be a sort of love song. Of course Lou Reed is able to subvert those expectations while still meeting them.
This album might be as close as we get to Lou Reed doing punk rock. With the shorter songs and some vitrol, it might be said he was (perhaps finally) embacing a style he was a forerunner of. That is, of course, not the case. Lou Reed doesn't "do" any genre or style, he is simply his own thing, the rock and roll poet.
Of course the topic of drugs comes up.
"The Last Shot"
Legendary Hearts isn't without its weaker songs.  The second side opens with two numbers that could  have easily been left off the album. That they are here should tell you something. This is not an album of outtakes, but instead Lou Reed during a rather prolific period of time and not everything is going to be a masterpiece.
Drug use is a recurring theme (again) in some of the lyrics, only this time they deal with bottoming out or wanting to become clean. A different face of Lou Reed's life coming to the forefront. Is this the turning point in his life when he finally became sober? I have not read a biography so I can not answer that one.
"Bottoming Out"
Interestingly, there is a song on here titled "Home Of The Brave" which is the same title as a film and soundtrack album by Laurie Anderson, the woman who would become Lou Reed's third and final wife a few years later. There is no connection between this song and Laurie Anderson's work.
Legendary Hearts is a decent abulm, and while it isn't quite as good as his last couple of albums, Lou Reed has entered into the 80 with a solid repertoire.