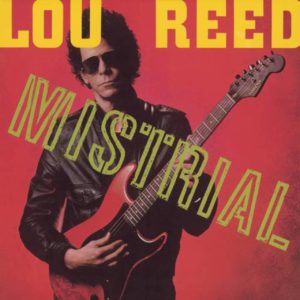 Lou Reed seems a bit upset in the opening and title track for his 1986 album Mistrial. It almost seems a reaction to the mediocre reception his albums have been getting. he has his two guitars, bass and drums formula down at this point and in the opening number his anger and frustration comes through with clarity.
Sonicaly the second track is much less "raw" and more "slick" with added instrumentation. "No Money Down" was the subject of one of the most disturbing music videos of the time. It is still really creepy to watch today, and halfway through it gets even creepier, if that were possible.
The next couple of songs are victims of the times, the production feels sort of out of place. Was Lou Reed trying a few different ideas to see what works and what doesn't, sort of like a different phase of experimentation for him.
"Video Violence" is a commentary on the state of television at the time, and while it veers away from the personal stories that Lou Reed is famous for,  there are still characters that come to life within the song. ""Spit It Out" sounds so unlike a Lou Reed song, as if the vocals are completely separate from the dancey pop rock instrumentation.
Then there is "The Original Wrapper" which doesn't sound like a Lou Reed song at all. This is a great example of rock and roll trying to be new wave, and the video for the song is nearly as inexplicable as the audio production.
All in all Mistrial feels like an album Lou Reed could have rerecorded a few years later when he got back to basics. Some of the songs are completely overproduced or clearly done in a way that is meant to capture what was "hot" at the time on radio. There are some decent songs, but at times they just get overshadowed by the album's production which doesn't necessarily hold up as well today.
And in staying with the times, the single "No Money Down" got the extended 12″ single remix treatment with the b-side being the "dub" version of the song which is just as weird as you would expect.
Yes, Lou Reed, the original Rock And Roll Animal getting caught up in modern trends. Or perhaps he was being forced to as he would switch record labels after this record and go on to create what is perhaps the greatest album of his career.