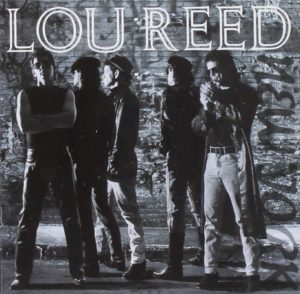 This is probably my favorite Lou Reed album. I remember when it came out, and I was already a little familiar with his work, having a cassette of his "hits" and hearing his music on the radio – I was not really listening to commercial radio at the time. What I remember about New York's release was that it was heralded as a stripped down and "back to basics" style of music, in many ways the antithesis of what was being released at the time. Lou Reed opted to release a concept album of various characters found in New York City, marrying the storytelling he is so good at with the idea of rock and roll as a form of art.
At the time New York was released I was listening to a lot of punk rock. The "stripped down" aesthetic of Lou Reed's 1989 release really spoke to me. In late 1988 and early 1989 the popular albums on the charts were heavily produced. Alternative music (such as it was at the time) had succumbed to a lot of keyboard embellishment as well. Even The Ramones, the punk rock band that essentialy was the blueprint for the "back to basics" style would find themselves succumbing to the times in their late 80s albums.
New York was released on a new record label, Lou Reed's third in his solo career. Originally signed to RCA, then a few albums later switching to Arista, only to return to RCA for a few more albums then on to Sire. The first album under his contract with Sire, which at the time was a label that featured many artists within the "alternative" genre and while Lou Reed largely defied categorization, he fit right in.
"Romeo Had Juliette" is a great introduction to this album which serves as an examination of New York City. It captures young love in an aggressive setting. It serves as both a character study of the people, but also of the city. That city, New York City, comes even further into the forefront in the song "Dirty Blvd." which examines the dichotomy of society within the city.
Musically the album is very raw, with just two guitars, a bass and drums, and the musical styles of the songs are more varied than one would expect. The subject matter is pure Lou Reed, with scathing indictments of everything from politicians to religion – "Busload Of Faith" is the most overt example of the latter. "Sick Of You" deals with politics and social issues with a bit of twang.
"Hold On"
I like the album because it paints a big picture with a lot of little pictures. It is a fantastic example of Lou Reed the storyteller, the social commentator, the rock and roll poet. From this point he would jump on to the rest of his career with renewed creativity and each subsequent album at least offering some variation or even something completely new. It is almost as if this album was the start of Lou Reed's 2nd solo career.