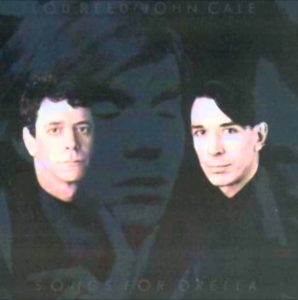 "What is something you are suited to?"
"Getting out of here!"
The opening number in Songs For Drella sets up the origins of Andy Warhol, the subject of the first collaboration between former Velvet Underground bandmates Lou Reed and John Cale in two decades. Encouraged and inspired by the death of Andy Warhol in 1987, the duo worked on this song cycle at the same time Lou Reed was working on his New York album.
"Drella" is a nickname that combines Dracula and Cinderella, and reportedly Warhol disliked the moniker. This album would also serve as the catalyst for a Velvet Underground reunion, but that is another story.
Songs For Drella is an album I always thought I had. I would see it in the racks of whatever record store or second hand shop I was in and not pick it up because I thought it was already in my collection. Whoops. What surprised me the most about this album was that Lou Reed did not take the lead vocal on every track.
"Style It Takes"
The liner notes say this album is purely fictional, but there are lyrics that hit a lot closer to the truth than you might think (such as Warhol's Catholic upbringing).
Various songs discuss aspects of Andy Warhol's life. The attempted murder of Warhol is covered in "I Believe". "Work" is all about Andy's work ethic and how he was always doing something in one form or another. "Starlight" is about the film career of Andy Warhol and the ordinary people he turned into stars. "Nobody But You" examines how Andy settled down in a way with one person after the murder attempt. Warhol's style of painting, perhaps what he is most famous for, is examined in "Images".
"Starlight"
Since I thought I had this album, I never picked it up, and as a result, I had not listened to it until recently when I finally did buy it. Songs For Drella is less a Lou Reed album than it is almost a different beast entirely. Not quite a Velvet Underground album, and certainly not just a Lou Reed album, it fits somewhere in between. With the subject matter focused all on one subject, it again makes this a very unique entry in Lou Reed's catalog.
Songs For Drella ends with Lou Reed saying the things he should have before Warhol died, a sort of apology and thank you letter. "Hello It's Me" is a heartfelt goodbye to a person who loomed large in Lou Reed's life.
Songs For Drella was released a few years after Andy Warhol's death, but like Warhol himself, the event of his death had a lasting impact that still resonated and remained present for several years.