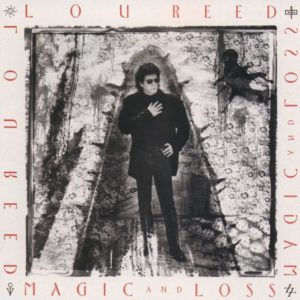 Coming on the heels of the artistic statement of New York, the follow-up collaboration with John Cale and events in his personal life, Magic And Loss captures Lou Reed at a point in his life where there are equal parts, well, magic and loss. His second marriage ended, he had explored themes surrounding the death of Andy Warhol, his career was at a high point, other friends had died, but life moves forward. it is that which Lou Reed explores on this album.
Largely sticking  to the two guitars, bass and drums format of New York, Lou Reed makes an album that celebrates life and love. "Goodby Mass" is a great example of this where Lou Reed takes on the role of the somebody saying his final thoughts to somebody.
Some of the songs are clearly Lou Reed coming to terms with his own mortality. Perhaps it is that sense of finality that he is not necessarily beginning to face, but at least recognize (the album was recorded and released as he approached the age of 50) and the loss of people around him that gave way to not only contemplation, but a sort of celebration.
"No Chance"is a great song about the suddenness of loss, with a "walking" style of guitar playing, but for me it is Rob Wasserman's bass playing that really makes this listenable.
A few of the songs are credited as being co-written with the 2nd guitar player, Mike Rathke. Maybe it was the collaborative effort with John Cale. Maybe Lou Reed just gives enough creative freedom to his sidemen and felt that there was enough of a contribution to warrant some credit. Whatever the case I found it interesting that on five of the fourteen songs Lou Reed shares the songwriting credit.
Magic And Loss isn't as sharp as New York, but it is essentially very much a "Lou Reed" album, full of stories and emotion. Grounded in reality the lyrics offer a glimpse into Lou Reed, the person. These aren't necessarily the fictional characters or real people of previous albums. Sometimes as I listen to this album I think this must have been a form of therapy for Lou Reed.