This is the first year in several that we are not going to sign up for the Mariners Kids Club.
No, I'm not particularly happy about it.
As long as I've had this blog we have been attending Mariners games with the aid of the Kids Club. It was a great deal because each membership included, among other things, $1 vouchers for certain games. With as many kids as we have, it just wasn't feasible to get to many games, but these vouchers enabled me to take multiple kids to multiple games.
It was a good run for a long time.
Then a while back the number of games shrank or became inaccessible via the vouchers. Last year I posted that it seemed as if the Mariners organization don't want the vouchers to be used. By taking away the weekend games when most kids can go to the ballpark, it seemed counter to the ideals of the Kids Club.
Alright, but it was still a decent deal, and I was going to be able to take the kids to more games than I would normally. Then an unannounced change to the policy reared up when I tried to redeem the vouchers.
Each voucher good for a $1 ticket must me accompanied by a paying adult. At this point in life I am taking 4 kids to the ballpark. I'm one adult.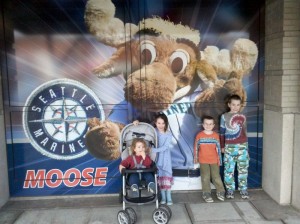 Go ahead and do the math. I'll wait.
This year I sent an email to the Mariners organization inquiring about this policy change and if it was still in effect for this year.
Here is the response I received:
Thanks for reaching out regarding the 2018 Mariners Kids Club. As always, we value your feedback and input on the program.
We do have the same policy as last year, in that each $1 voucher is valid when used with a regular priced ticket.  That being said, we have worked hard this offseason to create more opportunities for families to attend a game at Safeco Field at a great price.  Here are a few examples:
–          Increased the number of $1 MVP ticket voucher game options from 34 to 40
–          Added more weekend options for Kids Club ticket special games in 2018
–          Created new BECU Value games – 25 dates with $15 View or Bleacher seats and $30 Main and Club Level seats. This is nearly a 40% increase in discount nights.
Again, we truly appreciate your feedback and look forward to see you and your family at Safeco Field this season.
Alright, so a couple of my issues have been addressed, by a bump up in the number of vouchers and putting more weekend games back on the calendar. The BECU Value Games are a good idea but even then five tickets is going to be expensive (on top of concessions, parking, etc.).
Who takes their kid to a 7pm game during the week when they have school the next morning? The Mariners seem to be enabling some truancy with this schedule. And look at that afternoon home game in August. The only one at home during the day. It isn't available. Only two (evening) games in the whole of the month? Neither of which are on the weekend? June and July are only marginally better.
It is that stickler of each $1 voucher ticket being tied to a full priced. This means I can only take one child at a time to the ballpark. This creates an unfairness as a parent that I can not abide by. Heck, a couple of years ago we purchased three Kids Club and was having a kid take turns not getting to to the game.
This year? I can buy one Kids Club membership, and depending on what our schedule is I don't know how many games each of the kids are going to be able get to. Sure, there's 40 vouchers, but let's be honest, only half of those might be for games I could attend, then there are calendar restrictions that are coming from my own family, and at a best case scenario there's maybe 10 games I could make it to giving each of the four kids I can take to a ball game only two  chances to attend. And two others to unfairly take two kids to an extra game.
What are we gong to do this year?
Well, it's apparently not going to involve nearly as many baseball games as we used to attend. My kids are disappointed, naturally, but the way the Mariners are going, with attendance up and prospects are good for the team to hit the playoffs, it seems as if the organization doesn't need or want us, or families like ours, in the stands.