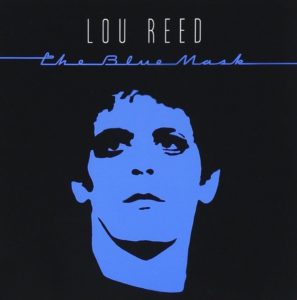 The Blue Mask was released in 1982, and opens with "My House" a typical Lou Reed story song told in the first person. It is difficult to tell just how autobiographical this song is, but by name checking his then-wife Sylvia, one suspects the lyrics were indeed inspired by some real-life event. She is named in a couple of songs directly, such as "My House" and "Heavenly Arms" (the opening and closing songs it should be noted).
Robert Quine (from Richard Hell & The Voidoids) provides the second guitar on this album and there are a few songs that really stand out for this dynamic between the two – one great example is the second song on the album, "Women". By separating the two guitarists to the left and right channels, a technique Lour Reed would continue to employ, there is a clear distinction and lets the listener focus on the song rather than the performance of it.
"Women"
"The Gun", "Underneath The Bottle" "Average Guy" are great character snapshots that Lour Reed does so well. The fact that these songs are relatively short and don't overstay their welcome makes them all the better.
"The Day John Kennedy Died" is another personal song. I find it interesting who this album shifts between personal/autobiographical songs and the more "story" or "character" centered ones. The production is fairly stripped down, the musical arrangements are simple, but not simplistic, and the lyrics can be poetic, insightful or both. While The Blue Mask is not Lou Reed's best album, the consistency of the songs make this one of his better albums.
"The Heroine"
There is no stand out song, and that's for the better. The Blue Mask is a much more solid offering from this masterful rock and roll poet.