I was wrong. For years I resisted Dropkick Murphys. I was confusing Dropkick Murphys with Murphy's Law, the hardcore band. I saw Murphy's Law in 1989 opening up for The Ramones and didn't like them. Not that I have anything against hardcore punk, I'm just rather picky about which ones I do like, and Murphy's Law didn't fit that bill for me. When Dropkick Murphys came out almost 10 years later people said to me that I should check the band out and I purposefully shunned the band.
It wasn't until just a few years ago that I realized that not only were Dropkick Murphys and Murphy's Law two different bands, and from two different cities (Boston as opposed to New York City). Sure, both have hardcore punk roots but only one infuses bagpipes and tin whistle into some of the songs.
What got me to finally check out the band? I'm sort of embarrassed to admit it was what is apparently the band's biggest hit "I'm Shipping Up To Boston" from the 2005 album The Warrior's Code. And no, it wasn't from being the theme song to "Rizzoli & Isles".
Even then it wasn't until a couple of years after that I heard a full album by the band. 2003's Blackout is a solid blend of the two sides of Dropkick Murphys. Here is "Worker's Song" off that album.
So I became a mild fan of the band. I heard a little more and like the band more.
From the beginning there was the Irish influence. Boston can do that. It's nice that Dropkick Murphys fully embraces it, but it took a while for it to kick in. Pun not intended. The first aalbm, 1998's Do Or Die has bagpipes on a couple of the 16 tracks. Then there's the traditional number "Fiinnegan's Wake" which doesn't feature any of the traditional instruments and is turned into an almost pure hardcore song.
Follow that with "The Wild Rover" from just a few years later (2001's Sing Loud, Sing Proud) which does the song much more justice.
Of course there's a version of the song that features Shane MacGowan from The Pogues joining Dropkick Murphys and it's a mess, as one would expect.
It may have taken a while but Dropkick Murphys has successfully blended the punk rock ethos withe their Irish influences. Here is "Going Out In Style" from the band's same named 2011 album.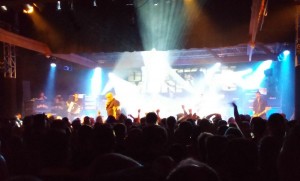 I got to see Dropkick Murphys last week while on tour. The lead singer had to leave the tour a few days before the end, but the bass player Ken Casey who shares primary vocal duties on records (and whom I met once but that is a different story) took over and a friend of theirs from one of the opening bands took over on bass allowing Ken to concentrate on fronting the band.
No offense, but Al, the lead singer, wasn't missed. Well, he was, but Ken did a great job.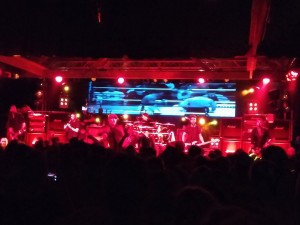 The band played plenty of songs off their latest album, 2013's Signed And Sealed With Blood along with plenty of older songs reaching all the way back to the first album. The newer stuff is, in my opinion much better, and while the older more hardcore stuff is good, but not equal to the stuff blending the two genres.
And live it is a very potent mixture.
Seeing Dropkick Murphys live made me all the more of a fan.